• Old School WWF Veteran Celebrates His Birthday
Old School WWF Veteran "Sir" Mo (Real name: Robert Horne) celebrates his 52nd birthday today.
He was part of the World Wrestling Federation Tag Team 'Men on a Mission' with his team partner Mabel from 1993 till 1995.
Together they won the WWF World Tag Team Championship from The Quebecers on March 29, 1994 in London, England but lost them back to The Quebecers just 2 days later in Sheffield, England.
Both title changes happened at untelevised house shows and at this point it's not known, whether the full matches were even taped by the WWF or not.
HAPPY BIRTHDAY MO!
• Sasha Banks Takes A Shot At WWE – Says She'll Need Fake B00bs To Get A Push
As we noted before, the Wrestling Observer reported that "The Boss" Sasha Banks decided to quit WWE after she was told that she (and Bayley) will lose the WWE Women's Tag Team Championship at WrestleMania 35.
The Titles changing hands was a last minute decision and WWE has given Sasha a few weeks to think about her decision.
Sasha was under the impression that WWE would be giving her and Bayley a strong run with the Women's Tag Team Titles and that's why they even went to NXT to issue a challenge, but things ended with another short Title run for Sasha on the main roster.
WWE recently posted the following graphic on their Instagram account regarding Kofi Kingston becoming the WWE Champion:
View this post on Instagram
Sasha posted a photoshopped photo of this graphic with the following caption:
"If haters only knew!! You know it, I know it, I should be the champion, headline and face of this company but I guess I need to be blonde with fake b00bs….#bossout"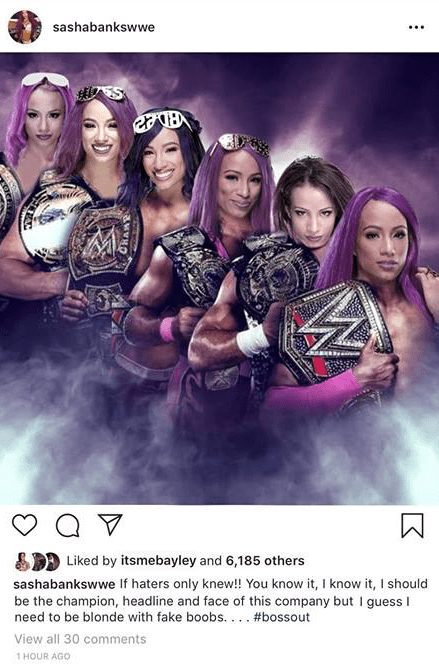 Sasha later deleted this post, but as seen in the above screenshot, Bayley liked Sasha's post.
As we noted yesterday, Bayley is said to be frustrated with her WWE status as well.
WATCH: Super Clear Image Of Sasha Banks' Buns Getting Exposed: