• WWE Champion AJ Styles To Address Samoa Joe's Attack & Comments On Tonight's SmackDown Live
WWE Champion "The Phenomenal" AJ Styles will appear on tonight's episode of SmackDown Live to address the attack and comments from his SummerSlam 2018 opponent, Samoa Joe.
Below is what WWE posted about this:
AJ Styles returns to address Samoa Joe
"Last Tuesday, Samoa Joe got extremely personal with WWE Champion AJ Styles, accusing the titleholder of neglecting his family in favor of his career as their SummerSlam title match draws near. The Phenomenal One returns to SmackDown LIVE tonight, two weeks after being blindsided by The Samoan Submission Machine.
What will Styles have to say? Has Samoa Joe gotten inside his head?"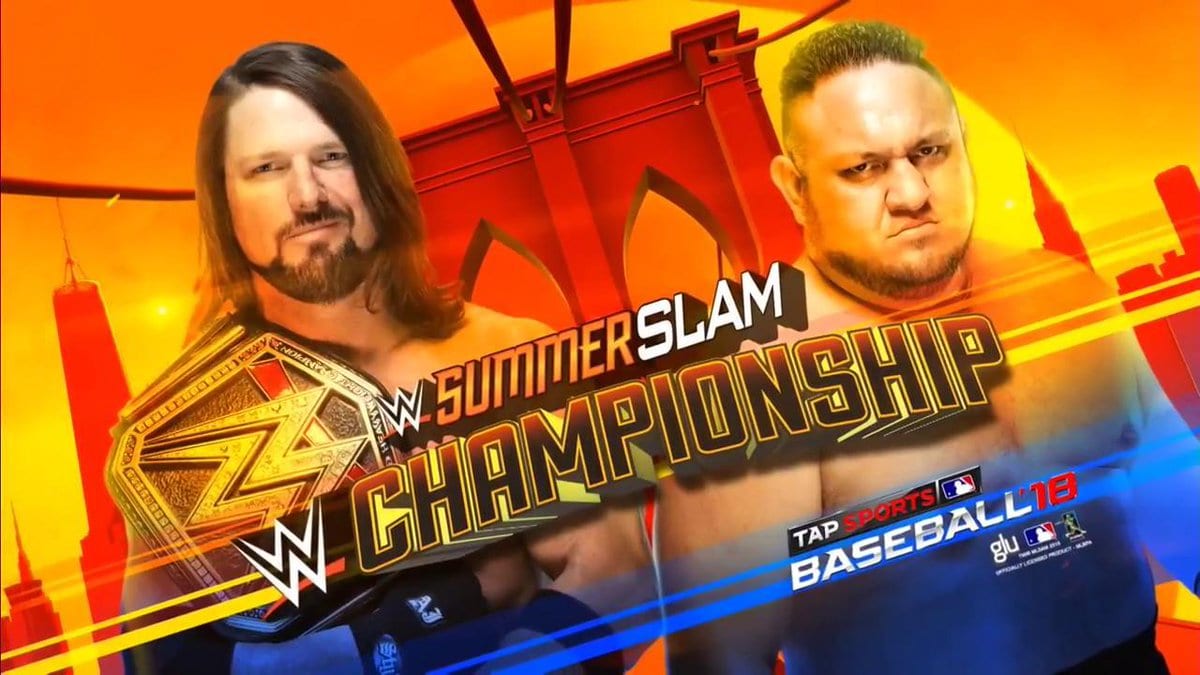 You can watch Samoa Joe's promo regarding his SummerSlam 2018 opponent from last week's SmackDown Live below:
• SmackDown Live Star Reveals His Issue With Brock Lesnar – Says He Cried After His Match With Lesnar
A Reddit user recently shared some information from SmackDown Live's United States Champion Shinsuke Nakamura's book 'The King of Strong Style: 1980-2014'.
In his book, Nakamura talked about having issues with Brock Lesnar during Lesnar's short run in New Japan Pro Wrestling back in 2006 (where he even held the IWGP Heavyweight Championship).
Below are the highlights (credit to reddit user Nivvd):
On crying after his match with Brock Lesnar:
"Part of that was luck. But that match was seriously rough. First, Lesnar was saying all this stuff about how he respected New Japan, but it felt to me like that was just for show, that he didn't really respect the promotion. Like, somewhere, he was looking down on Japanese people. I lost the match, and that was the first time I cried at pro wrestling after a match."
On feeling like Brock didn't have any love for the Professional Wrestling business:
"It was the main event at Tokyo Dome. This was a pretty hallowed stage and I knew I hadn't fought the way I imagined I would. And there was, like, this temperature difference between me and Lesnar. I didn't get the sense he had any love for pro wrestling. It felt like he was just doing his job."
On not liking Brock's personality:
"I felt like this was too much; he was seriously scoffing at us. Lesnar won the championship and took the belt home, I told Simon if the company didn't get it's shit in order, that belt was definitely going to get nicked. I didn't honestly believe that when we fought. But it ended up just like I feared. He has the physical stuff, plus a straightforward strength and a certain amount of flexibility, so there was a bit of the monster to him. But I didn't like his personality, you know? He might have made a real mark in UFC, but he didn't even seem to notice the audience booing. I was like, 'Oh, this guy's a heel to the core.'"
Announcement: We have launched our 'WrestleFeed' App on both Android & iOS. We're trying to create Wrestling's own Social Media with it. Apart from all the wrestling news, videos & other updates on the app, we're also going to do a 'Wrestling Quiz' every week before Monday Night RAW soon. The winner of that Quiz will win $100.
Please download our app now! Below are the download links:
Android – http://bit.ly/2IVQ3yU
iOS – https://apple.co/2Oido0R