Tonight's historic 1000th episode of SmackDown, SmackDown 1000, kicks off with an amazing intro which shows some great SmackDown moments over the years.
The show kicks off with the second episode of 'Truth TV' wth R-Truth & Carmella. They dance twice before introducing their guest and this leads to RAW Commissioner Stephanie McMahon coming out.
Stephanie talks about being the 1st ever General Manager of SmackDown. R-Truth goes to ask his first question and this leads to SmackDown Commissioner Shane McMahon coming out!
Shane welcomes Stephanie to the A-show.
Shane & Stephanie are arguing which show is better, RAW or SmackDown, and this leads to Mr. McMahon coming out to a huge pop!!!
Vince talks about a dance break and all people in the ring dance! This is the end of this segment.
You can watch Vince's appearance below:
#TruthTV with special guests @StephMcMahon & @shanemcmahon… AND a dance break?!

There's NO CHANCE @VinceMcMahon would miss out on this! #SD1000 pic.twitter.com/UXka3I35Sb

— WWE (@WWE) October 17, 2018
Out next are the WWE Champion AJ Styles and Daniel Bryan for a tag team bout against former SmackDown Tag Team Champions, The Usos.
During the ending moments of the match, Bryan & Styles had a little miscommunication and instead of hitting Jey Uso, Bryan hit Styles. Styles retaliated and pushed away Bryan.
This led to The Usos superkicking both Styles & Bryan and then pinning Bryan to pick up the win!
The Usos def. Daniel Bryan & WWE Champion AJ Styles
We now go to a backstage segment with SmackDown General Manager Paige, Vickie Guerrero, Teddy Long & John Laurinaitis.
A graphic is shown for tonight's SmackDown Tag Team Championship match between The New Day and The Bar: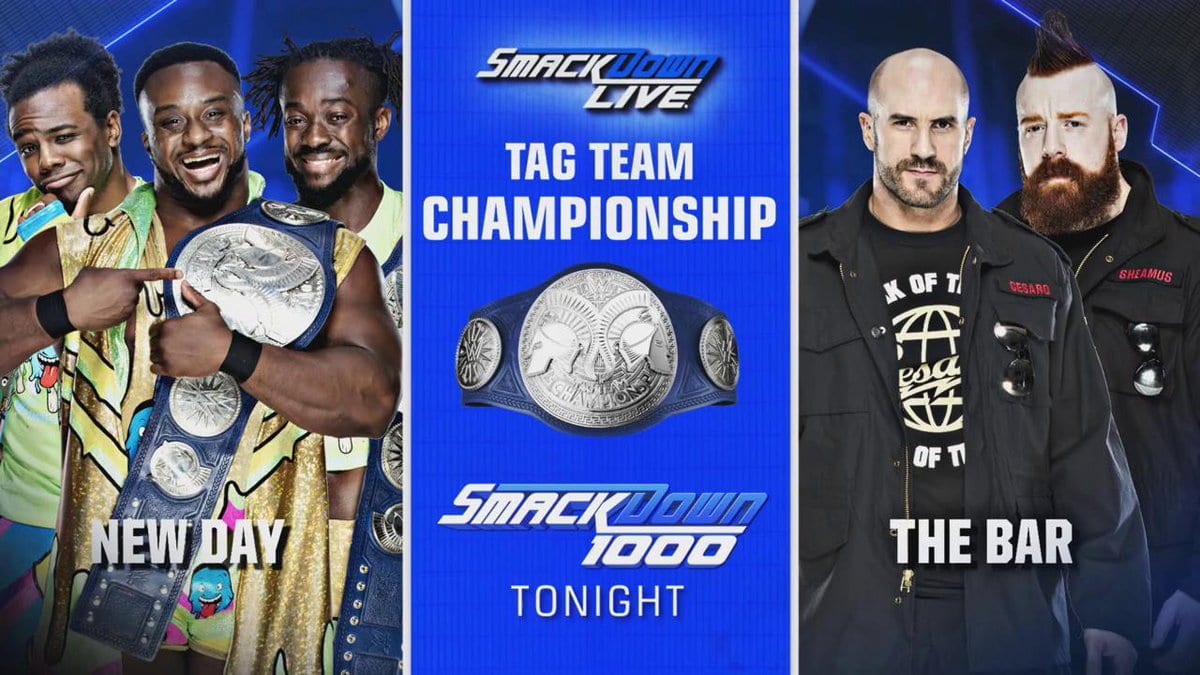 Up next is the return of the greatest "WWE" faction of all time – EVOLUTION!
Evolution's music hits and they come out to a big pop! This is Evolution's first appearance on SmackDown as a group.
SING IT, LEMMY.

EVOLUTION is LIVE on #SD1000!@TripleH @DaveBautista @RicFlairNatrBoy @RandyOrton pic.twitter.com/8h4STO7rE3

— WWE (@WWE) October 17, 2018
Crowd chants for Batista and then Wooooooooos for The Nature Boy!
Triple H & Flair cut promos and then Orton sh*ts on them as he talks about how he's here day in and day out.
Batista takes the mic and says he's a little nervous. Batista said he's gonna ignore what Orton said.
Batista said he wants to talk about 4 things:
1. Batista talks about he how he helped build SmackDown.
2. We're in his hometown tonight where he worked as bouncer in a club for 13 years.
3. For the fans – no matter whether they called him Bluetista or Bootista! He says he loves the fans!
4. These guys (points at Evolution). He talks about how special this group is. Batista talks about Orton being a 13 time WWE World Heavyweight Champion and how him, HHH & Flair knew Orton was special the first time we saw him.
Batista then talked about Flair, Space Mountain and his 16 World Title reigns! Flair wanted to first-pump Batista, but Batista left him hanging and the crowd laughs and so does HHH!
Batista then comes to Triple H. Batista says this man has single-handedly changed the business and that HHH is done everything in this business – except beating him!!!
"There is nothing that this man hasn't done in this business…except beat me!" @DaveBautista just went there… #SD1000 pic.twitter.com/E7atsmfIL0

— WWE (@WWE) October 17, 2018
The mood in the ring changes as both Batista & HHH get serious. Batista & HHH then hug it out and Evolution's music hits.
All 4 men hug it out and the segment ends!
You can watch Batista take a dig at Triple H below:
This got REAL tense REAL quick.

Evolution has reunited on #SD1000, but @DaveBautista has a little reminder for @TripleH… pic.twitter.com/aEJHWQAt5R

— WWE (@WWE) October 17, 2018