• Former WWE Diva Comments On Lita Being A Bada$$, Melina Having Backstage Heat
During a recent appearance on Noonan Speaks, former WWE Diva Kristal Marshall talked about Divas in WWE being welcoming, Lita being a certified bada$$, not liking Melina, Melina having backstage heat, veteran Divas she is still in contact with and more.
Below are the highlights:
On Divas in WWE being welcoming:
"For the most part, I would say the Divas that were already established and on the road, they were very welcoming. At the same time, they were kind of keeping their eyes open to find out who the bad seeds were, more or less. Who didn't really want to be there? Who didn't really want to adapt? Who just wanted to cause problems and be a prima donna, so, for me, I was very alert. I didn't want to piss anybody off and there were a few girls that I really, really respected, so I just stayed clear away from them and kind of gave them their space. I was very starstruck."
On Lita being a certified bada$$:
"I remember the first time that I saw Lita, I just stared at her like a moron! I was just kind of like, 'hi!' I didn't really know what to say. I had those moments for a while and you adjust, sort of. It was surreal! She bounced around [between brands], so I didn't get to develop much of a relationship with her, but from the bits and pieces that I did gather, just watching her career through the years, Lita is a certified badass. She is. She's a pioneer. There was never anybody like her. There's never going to be anybody like her. And there was a big part of me that wanted to be like her. Not in the sense of having the tattoos and all that, but I wanted to be at her level of badassery, if that makes any sense."
On not liking Melina:
"In all fairness, I'm going to have to bring up Melina. I think that Melina was one of, definitely during my era, one of the most misunderstood female wrestlers and I say, 'misunderstood' now because, when I was there, I didn't like her. I thought she was really rude. I felt like she thought she was better than anybody else. But now that I've kind of seen her here and there through the years, kind of got the chance to talk to her a little bit more, and I'm starting to get the feeling that that's not the whole version of Melina that we were exposed to during that time. And, in all fairness, looking back, I think she was probably incredibly shy.
Incredibly shy and I felt like, again, like I said, there's usually just that one spot on TV for a Diva and when I was there on SmackDown, Melina was at the top of her game and she was that b—h, so I feel like there was a lot of animosity from other girls towards her, so I think maybe she had a target on her back at the time, but now, it's like I see her in passing and it's like, 'hi, how are you?' and she's so sweet and she's endearing, and very sensitive, and some wonderful things there, so I don't know. Maybe she [has] changed or whatever. But I do kind of wish that I took the time or I could've gotten to know this Melina."
On Melina having backstage heat:
"Oh, it was bad. It was bad. It was bad." Marshall said, "I remember one time, we were in Europe and they held Court for her. And it's like I sat there and I really didn't know at the time exactly what all that meant. I just knew it was like, 'oh, we're going to talk about some s–t that she did that pissed us off.' Like, looking back now, the s–t they were mad about, it was really none of our f–king business. It was none of our f–king business really! And we are grown ass people now. I can say that. But it really wasn't, so I just kind of felt like sometimes in [pro] wrestling, they pick a whipping boy, so-to-speak. I think she was that person at that time, for sure, at least from the female perspective."
On veteran divas she is still in contact with:
"I talk to Layla quite frequently. I was actually in her wedding. She got married a couple of years ago. Let's see, who else do I talk to? I touch base with Ashley; Torrie, here and there; Barbie, I touch base with Barbie every now and then – we're kind of touch and go, Barbie Blank, Kelly Kelly; Sharmell, every now and then we kind of reach out and chitchat; Jillian also. I think that's about it.
I keep in touch with those girls because we were all in the SmackDown locker room during that period of time. Also, another girlfriend of mine who was in developmental, her name was Krissy Vaine, Kristin Eubanks, who is actually married to Ryan [Parmeter] who is part of Ascension right now. She's one of my very dear friends. Like, she's amazing and she helped me through some pretty rough patches."
• SmackDown Live Star Assaulted After Money In The Bank 2018
SmackDown Live General Manager Paige noted in her Instagram story that she was assaulted after last night's Money In The Bank 2018 PPV.
Below is what Paige posted:
"To the 'fan' that decided to pie face me through my car window and then tell me to 'lose some weight Paige'..you inspired me to keep being myself and eat whatever the f I want. Good luck with your karma!"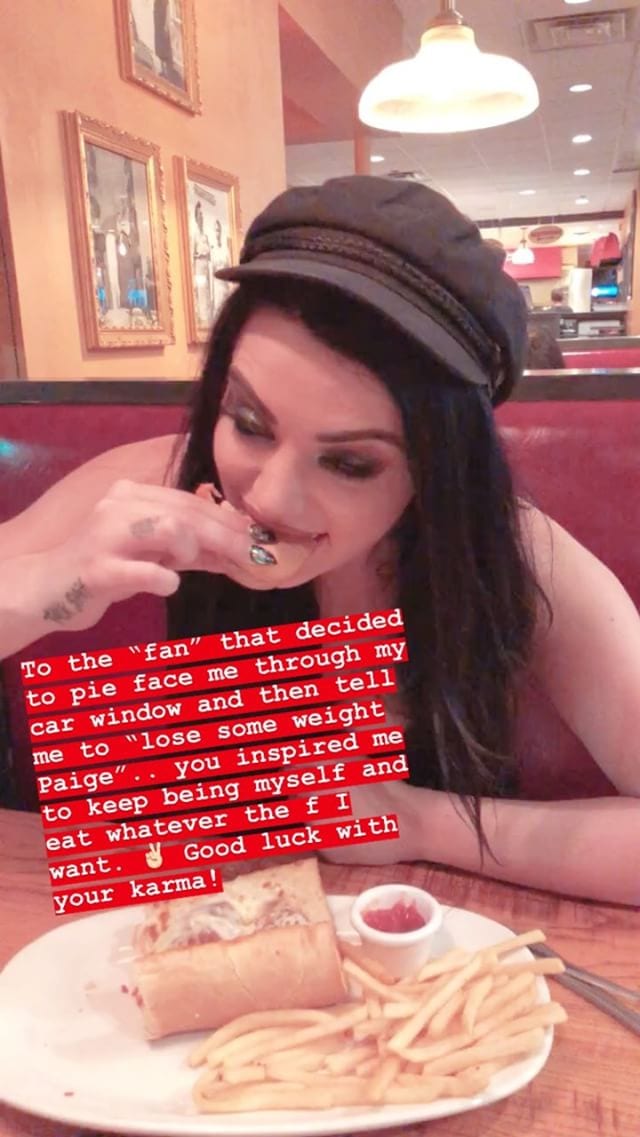 Paige assaulted after Money In The Bank. pic.twitter.com/EcZXgRrUAT

— World Wrestling News (@WWENewsMafia) June 18, 2018