• Natalya Comments On Women Not Wrestling At The Greatest Royal Rumble In Saudi Arabia
During a recent interview with Joe.ie, former SmackDown Women's Champion Natalya talked about what all she still wants to do in WWE, Ronda Rousey as a person and a performer, women not having a match at the Greatest Royal Rumble and more.
Below are the highlights:
On what all she still wants to do in WWE:
"Yes I was a Women's champion, yes I was a Diva's champion, yeah I've been a part of the first ever women's Money In The Bank ladder match, and the first ever women's royal rumble, and the first ever women's table match … And yeah, I guess I have done so much, but I also feel like, at 35, I'm really in a great place, because I have experience but I still wanna grow. I wanna work with Ronda Rousey, I wanna work with girls I've never worked with before. I've never had a singles match with Sasha Banks. I'm excited to be drafted over to Raw, it's a fresh new start. Overall, I'm excited. As long as the fans feel my enthusiasm, we're all on the same page together."
On Ronda Rousey as a person and a performer:
"She makes it really hard not to like her. She's a good friend of mine. I'm impressed by her on so many levels. Her work ethic, her attitude, her drive, her determination to be innovative and different but to still stick to her roots. But she's still really humble. I like being around her. When I train with her and work with her, she makes me wanna be better. Even though she doesn't have a whole lot of experience in WWE, she performed at WrestleMania a little over a month ago, or less than a month ago? I'm not even sure what day it is … She just did so well. It was a testament to her commitment and to her hard work. She's stepping into a whole new world, this is not her world. But she's an example that change is good, and that there's always something new that we can be challenged by. I love Ronda."
On women not having a match at the Greatest Royal Rumble:
"It was an awesome show. And I was thinking 'Wow this is so cool, I really want to be a part of this one day' and it goes back to everybody evolving. It takes time to grow and move forward. I believe everything is going in a positive direction. Rome wasn't built in a day, as they say, but I think definitely we'll get there, I'm excited about it. I was talking with several of the male talents that were over in Saudi Arabia, and Roman Reigns said it was just so incredible, and that he can't wait to go back. So it's exciting for us to think about going there. I think one day I'll be there for sure."
• Spoiler On Who Will End AJ Styles' WWE Title Reign
Title reigns don't last forever and AJ Styles' current WWE Title reign will come to an end one day as well.
It was announced on this week's SmackDown Live that the WWE Championship match between Styles & Shinsuke Nakamura at Money In The Bank 2018 will be a Last Man Standing match (a stipulation that Nakamura chose).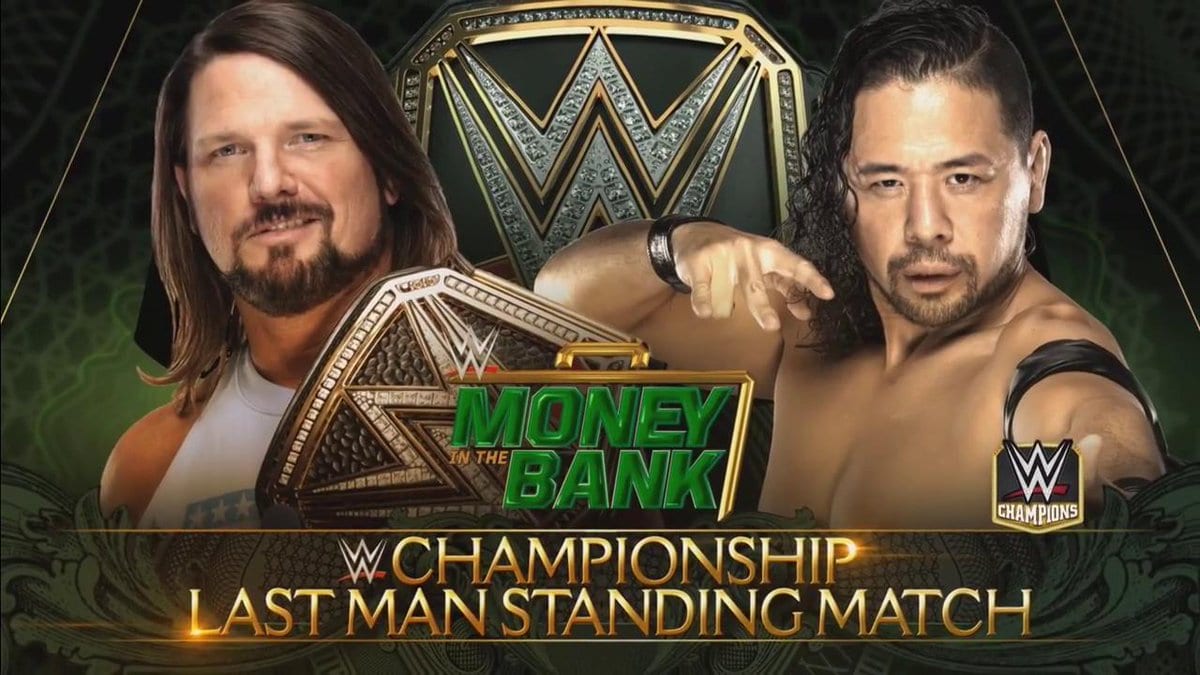 It should be noted Styles won't be dropping the WWE Title to Nakamura, as current plan is for The Miz to win the Men's Money In The Bank Ladder match and successfully cash-in on Styles to win the WWE Championship and become a two time WWE Champion, according to Dirtysheets.net.