• Old School WWF Legend Would Have Celebrated His Birthday
Today would have been the 67th birthday of Old School WWF Legend "Adorable" Adrian Adonis (Real name: Keith Franke Jr.).
Adrian Adonis formed 'The East-West Connection' with Jesse "The Body" Ventura and 'The North-South Connection' with "Dirty" Dick Murdoch, before adapting the queer gimmick of "Adorable" Adrian Adonis, which led to the legendary match with fellow WWF Legend "Rowdy" Roddy Piper at WrestleMania III, that resulted in Adonis getting his head shaved.
He has yet to be inducted into the WWE Hall of Fame, which might actually happen as part of the annual Legacy Wing inductions.
HAPPY BIRTHDAY & † REST IN PEACE
September 15, 1953 – July 4, 1988
• Steve Austin Wanted To Play The Son/Brother Of Hulk Hogan
While speaking on his 83 Weeks podcast, former WCW President Eric Bischoff revealed that Steve Austin once came to him to pitch an angle he wanted to do with Hulk Hogan.
Below are the details Bischoff provided:
"He did come to me with one idea where the audience would find out that Steve was Hulk's – I can't remember exactly – his son or his brother. He came to me with the idea that somehow he would be related to Hulk Hogan and tag with him.
Now Steve may not remember it – I remember where it happened because it was an awkward conversation for me to have in front of other people. We were at Center Stage in the main locker room area. I think he and I or maybe a trainer or two would have been the only people in the room and we passed each other in the doorway and he stopped me and laid this out and wanted me to pitch it to Hulk.
The reason I was concerned about what I was hearing wasn't because I thought it was a bad idea at all – actually, I may have even liked the idea. But I knew with having talked with Hulk and Ric [Flair] for the months leading up to Hulk Hogan signing with WCW, how reticent Hulk was to work with anybody that he didn't really know or hadn't worked with in the past. And Steve was one of those guys.
So I was hearing an idea I probably dug or even liked, and Steve and I got along pretty well up until the day I fired him. We got along well. I kind of dug the idea but also knew it would be swimming upstream."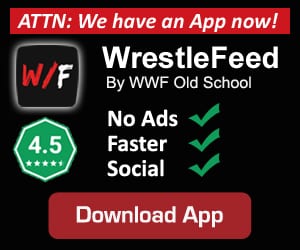 WATCH: WWF Diva Debra (Steve Austin's Ex-Wife) Stripped:
You can download our official WrestleFeed mobile app to check out more Wrestling news & Divas content. Tap here to download.