• T-Bar Takes A Shot At "Virgin" Sammy Guevara For Stealing His Move & Making Rape Jokes, Gets Heat From Another AEW Wrestler
T-BAR (of RETRIBUTION in WWE) is always up to something on Twitter, and this time, he decided to pick a fight with Sammy Guevara (of The Inner Circle in AEW).
T-BAR took to Twitter to call Guevara a "virgin" who stole his finisher, and does what Ricochet does in the ring.
"Some little teenage virgin on AEW stole my finisher like four years ago after we did a show together. I'd steal something from his move set but it's all just @KingRicochet moves."
Guevara called T-BAR "T-Bag" in response, and took a shot at WWE not giving him enough TV time while plugging his own vlog.
"Someone tell T-Bag the move actually belongs to Matt Demorest (the guy he stole it from) & I'm just trying to get the move to be seen since you know he's never on TV.
Also while you are sitting doing nothing in catering on Monday check out the newest vlog"
Former AEW World Tag Team Champion Dax Harwood (Scott Dawson in WWE) tweeted in support of Guevara and called T-BAR an "idiot".
""Stole MY finisher". MY FINISHER?! 😂 The guy is an idiot. He's lucky to even be in the business."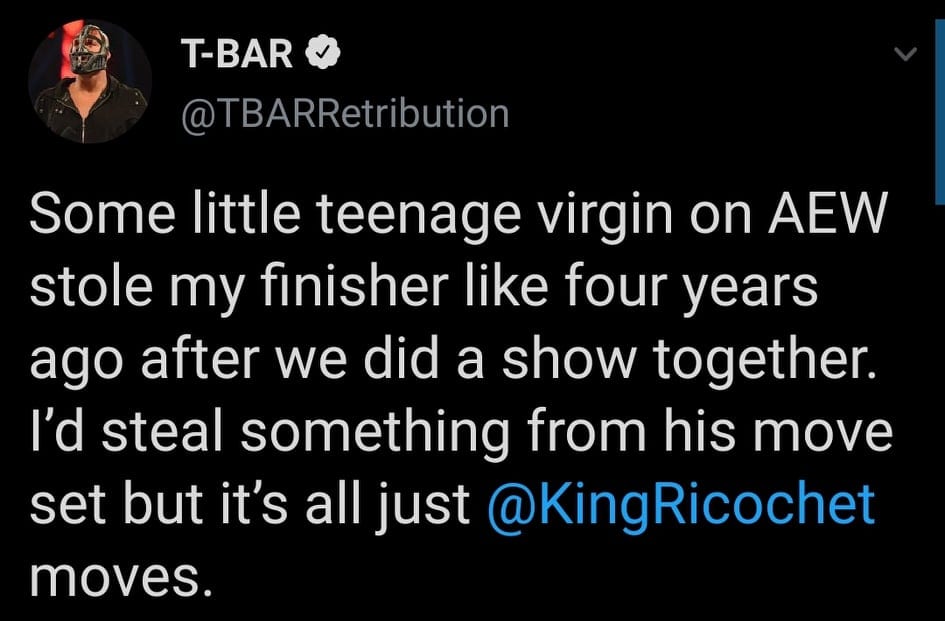 "Stole MY finisher". MY FINISHER?! 😂 The guy is an idiot. He's lucky to even be in the business.

— Dax FTR (@DaxFTR) January 13, 2021
T-Bar then issued the following response to Guevara:
"Someone tell panda kid I had a singles match on TV last night, and I didn't steal the move from some backyarder, I thought of it in a professional wrestling ring with @Kill4nova. Try being creative sometime, instead of, oh I don't know, making jokes about rape."
After this, T-Bar had a question for Harwood:
"I could never understand what your problem was with me. I was always polite to you. Complimented your matches. I think you hated my style? So weird. Hope all is well, you usually seem like a nice enough dude."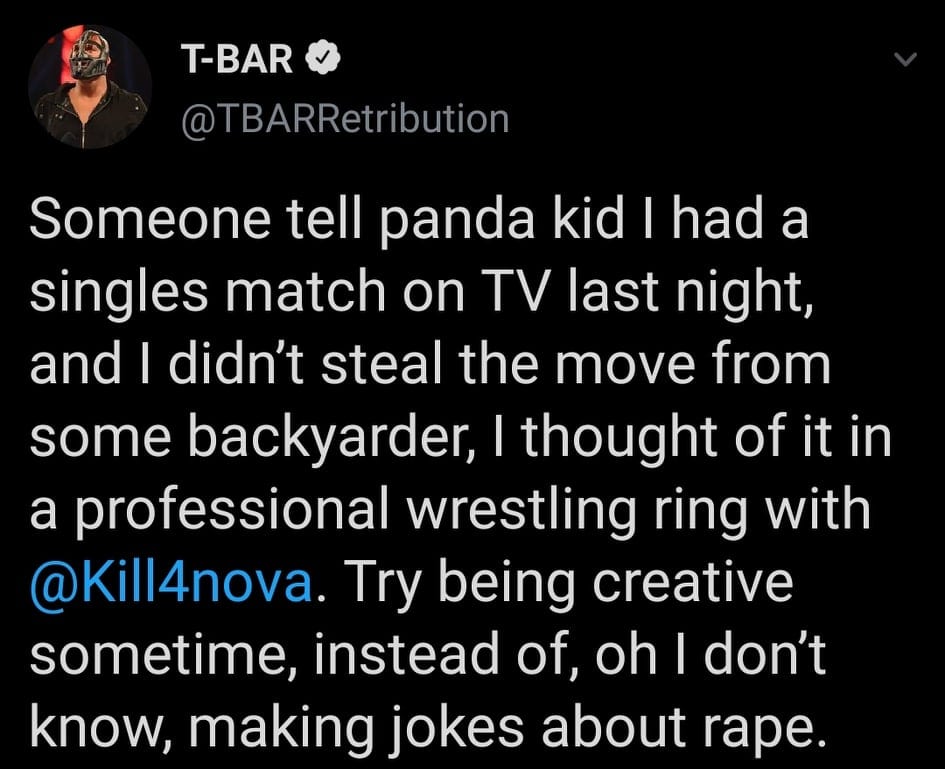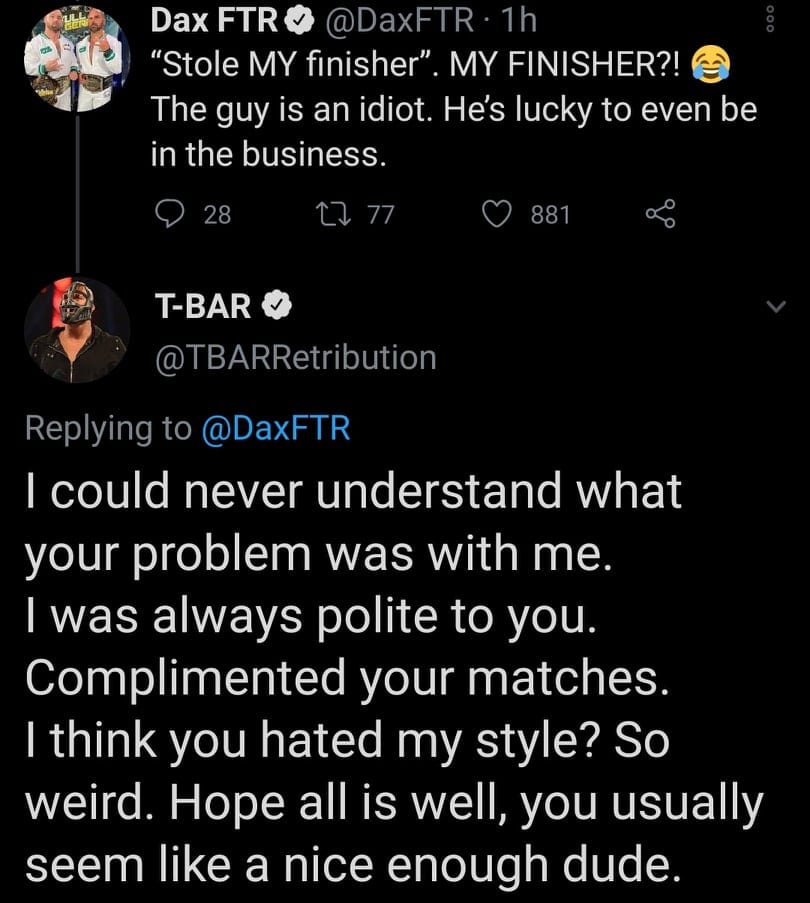 WATCH: Sara (Undertaker's Ex-Wife) In Bikini – Part 1:
You can download our official WrestleFeed mobile app to check out more Wrestling news & Divas content. Tap here to download.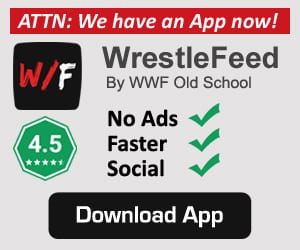 • Old School WWF Veteran Celebrates His Birthday
Old School WWF Tag Team Veteran B. Brian Blair celebrates his 64th birthday today.
Most Golden Era fans will remember him as a member of the Tag Team 'The Killer Bees' alongside his tag team partner Jumpin' Jim Brunzell.
They teamed up in the World Wrestling Federation from 1985 till 1988, before they were split up unannounced and both Brian & Jim were used as 'Jobbers To The Stars' from that point onwards.
The team later reunited in Herb Abrams' UWF as "Masked Confusion", though still using their Killer Bees gimmick, only with a different name due to the WWF holding the trademark.
HAPPY BIRTHDAY BRIAN BLAIR!