• Teddy Long Says Ric Flair Never Apologized For Calling Him The N-Word
While speaking to Hannibal TV, WWE Hall Of Famer Teddy Long recalled Ric Flair calling him the N-word, and revealed that Flair never apologized to him for it.
"No, I don't think he has. I mean if he had I would know, no he hasn't. Here's the thing about that. Sometimes people don't apologize like come up to you and say they apologize. Sometimes they can speak to you and maybe try and hold a conversation with you to let you know in so many words…
I didn't really expect that and I don't really care because I put that all behind me. I was able to make it and I was able to show people that had that negative about me that said I would never make it and I had no talent and I was able to prove them wrong so that was good enough for me so I don't need no apologies, you know what I mean? Like I said, I'm just telling the truth. It is what it is, that's what happened."
Long then gave details on the story.
"One time in Knoxville, Tennessee, I think and I know there were some girls that were trying to come into the back of the arena and then I think he was maybe at that door and they said some girls threw me under the bus. I don't even know who they were, I was refereeing.
They used my name and said that I told them that they could come in or they could come to the back door or something like that. So he runs into me and the next thing I hear him say to me is 'N, do you like working here?'
You say what you want to say, just don't put your hands on me. That's when you got a problem. Like I said, I got so used to hearing that…"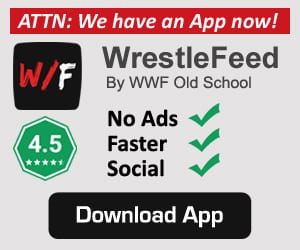 WATCH: Lana Spanks Carmella In A Bikini:
You can download our official WrestleFeed mobile app to check out more Wrestling news & Divas content. Tap here to download.
• Old School Wrestling Veteran Celebrates His Birthday
Old School WWF/WCW Veteran "The Tonga Kid" Tama (Real name: Samuel "Sam" Larry Anoa'i Fatu) celebrates his 55th birthday today.
Tama is a member of the famous Samoan Wrestling family, related to some of the biggest names in professional wrestling, such as The Rock, Yokozuna & Roman Reigns, who are his cousins.
Sam is also the brother of Rikishi (Headshrinker Fatu) and the late Umaga, as well as the nephew of The Wild Samoans (Afa & Sika).
He wrestled for the WWF from 1983 till 1988, most notably teaming with Haku as 'The Islanders', a tag team managed by Bobby "The Brain" Heenan.
In 1989 & 1990, he teamed with his brother, Fatu, and his cousin, Samu, as The Samoan SWAT Team in Ted Turner's WCW, where he was known as "The Samoan Savage".
HAPPY BIRTHDAY TAMA!