• "The Fiend got his hooks in her" – RAW Wrestler On Alexa Bliss' Condition
Former WWE Women's Tag Team Champion Nikki Cross appeared on last night's RAW Talk to talk about Alexa Bliss' condition after she let The Fiend in.
Nikki wants to save her best friend and said the following:
"It's not her talking, ok? This isn't Alexa talking. He's got his hooks in her, she's under his spell. I tried everything. I've tried everything and maybe it's time to change up the tactics.
She can lash out at me all she wants. She can push me away as much as she wants. I'm not going to give up on her. We were tag team partners, we were tag team champions, twice, I'm not willing to give up all of that.
As her best friend, maybe I'm the only one that can reach her, and maybe I do need to shake some sense into her, Charly.
He's playing games with her. He's gone in her head and she needs to get out of whatever she's in and that's up to me. She's obsessed with him.
The Lexi that spoke to me last night, the Lexi that spoke to me last week, the one that I saw week's before that, he's done something to her. Like I said to you before, she's under his spell. Would you walk away from a friend if she was…..would you walk away?
If you wanna ask me what's more powerful – The Fiend or my friendship to Lexi or how I feel about Lexi or what she means to me, then let's ask that question and see what's more powerful."
WATCH: Alexa Bliss' A$$ Slapped:
You can download our official WrestleFeed mobile app to check out more Wrestling news & Divas content. Tap here to download.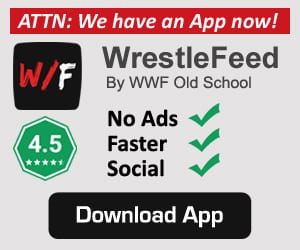 • Old School WWF Legend Celebrates His Birthday
Old School WWF Legend "Cowboy" Bob Orton Jr. celebrates his 70th birthday today.
He's the son of Bob Orton Sr., brother of Old School WWF jobber Barry O, and father of current WWE Champion Randy Orton.
Bob wrestled for the World Wrestling Federation between 1981 and 1987, and then worked for them again in 2005, where he appeared in the corner of his son during Randy's feud with The Undertaker.
Earlier that year, in 2005, he was inducted into the WWE Hall of Fame by his son.
HAPPY BIRTHDAY BOB ORTON JR.!