• On This Day In Pro Wrestling History (November 25, 1992) – WWF Survivor Series 1992
On this day in Pro Wrestling history on November 25, 1992, the World Wrestling Federation aired 'WWF Survivor Series 1992' LIVE on PPV from the Richfield Coliseum in Richfield Township, Ohio.
This was the 6th annual 'Survivor Series' event since it started in 1987.
The 1992 edition of the World Wrestling Federation's classic 'Survivor Series' event was the first one not to feature a traditional '4 vs 4' or '5 vs 5' Survivor Series elimination match; the only match that came at least close, was the tag team elimination match, that had 2 tag teams face 2 tag teams and when one man got eliminated, his respective tag team partner was gone too.
It also featured Mr. Perfect's first WWF match after being sidelined with an injury for more than a year, as well as Bret Hart & Shawn Michaels main eventing a PPV for the first time ever.
Here are the results:
The Headshrinkers defeated High Energy
Nightstick on a Pole match: Big Boss Man defeated Nailz
Tatanka defeated Rick Martel
Mr. Perfect & Randy Savage defeated Razor Ramon & Ric Flair by DQ
Yokozuna defeated Virgil
Tag Team elimination match: The Nasty Boys & The Natural Disasters defeated Money Inc. & The Beverly Brothers
Casket match: The Undertaker defeated Kamala
WWF World Heavyweight Championship: Bret Hart (c) defeated Shawn Michaels
• The Undertaker Reveals Which Match He's Really Proud Of
During the premiere episode of the Broken Skull Sessions, WWE Hall of Famer Stone Cold Steve Austin talked about The Undertaker's 5 star classics and asked which match The Phenom is really proud of.
Undertaker said that he's really proud of his WrestleMania 28 "End Of An Era" Hell in a Cell match against Triple H with Shawn Michaels as the special guest referee.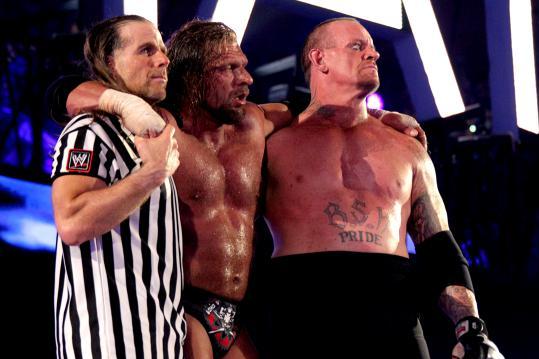 Austin then showed the above photo and Taker said this was a real moment and during that moment he didn't know if he would come back for a match ever again.
Also Read: The Undertaker Explains Why He Still Wrestles, Reveals His Current Status
WATCH: Undertaker Leaves The Hospital After WrestleMania 30: