• On This Day In Pro Wrestling History (October 5, 1997) – WWF In Your House 18: Badd Blood
On this day in Pro Wrestling history on October 5, 1997, the World Wrestling Federation aired 'WWF In Your House 18: Badd Blood' LIVE on PPV from the Kiel Center in St. Louis, Missouri.
This pay-per-view featured the first ever 'Hell in a Cell' match in professional wrestling history, including the debut of Kane.
Here are the PPV results:
– The Nation of Domination defeated The Legion of Doom
– Max Mini & Nova defeated Mosaic & Tarantula
– WWF Tag Team Championship: The Godwinns defeated The Headbangers (c)
– Vacant WWF Intercontinental Championship: Owen Hart defeated Faarooq
– The Disciples of Apocalypse defeated Los Boricuas
– Flag match: Bret Hart & The British Bulldog defeated The Patriot & Vader
– Hell in a Cell: Shawn Michaels defeated The Undertaker
• The Undertaker Reveals Why He Didn't Appear On SmackDown's 20th Anniversary
Despite WWE advertising a lot of legends for last night's SmackDown's 20th anniversary show on FOX, The Rock was the only legend that had a proper segment. Other legends just appeared in attendance for the show.
Major names like Stone Cold Steve Austin and The Undertaker didn't even appear in attendance despite being advertised.
A fan posted the following under a recent photo that The Undertaker posted on Instagram:
"@undertaker Shoulda had you on at the end instead of that ending bro…"
The Undertaker replied the following to this fan:
"I was told I wasn't needed…"
Below is a screenshot of this: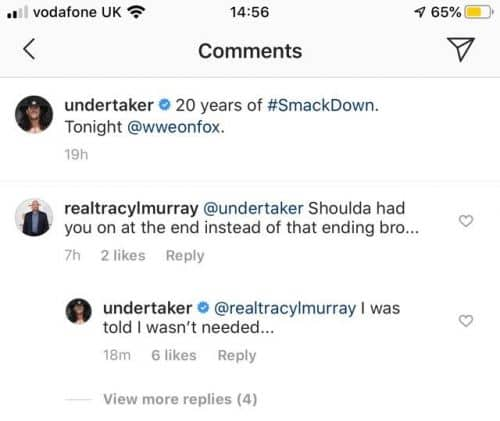 Also Read: Major Update On Plan For Brock Lesnar vs. Cain Velasquez
WATCH: New Video Of Torrie Wilson Taking A Shower: