• The Undertaker's Affair Storyline Was Canceled Due To Fan Reaction
On the October 10, 2002 episode of SmackDown, a woman named Tracy claimed that The Undertaker had a 3-month affair with her.
On October 17, Undertaker admitted he knew Tracy, but denied cheating on his then-wife Sara.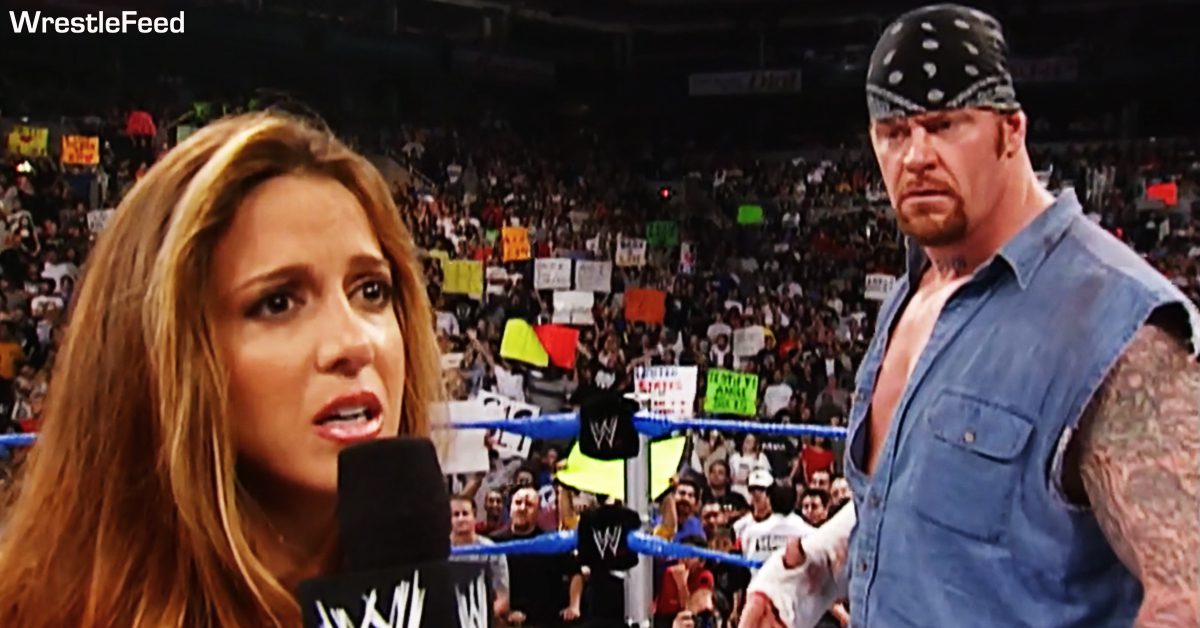 At the same time on RAW, WWE did the infamous Katie Vick angle, where Triple H accused Kane of murder and necrophilia.
Fans didn't react positively to either of these storylines, which led to Vince McMahon deciding to quickly end them after the No Mercy 2002 pay-per-view.
Below is what former WWE Writer Brian Gewirtz wrote in his "There's Just One Problem…: True Tales from the Former, One-Time, 7th Most Powerful Person in WWE" book about these two storylines:
"Also tasked with embedding a shocking soap opera–style twist, Paul Heyman and Brock Lesnar introduced the world to 'Tracy', a woman who claimed to have had a three-month affair with The Undertaker while he was married.
She slapped him and even called him 'Mark', 18 years before doing that on TV was cool.
The audience didn't go for this one either, and it's mainly forgotten now.
Having a character simulate $ex with a corpse dressed in a cheerleader outfit tends to overshadow whatever other stories you have going on.
By the time we got to the pay-per-view, Vince was ready to move on to the next thing."
Gewirtz also pitched the idea of kicking off the No Mercy PPV with a backstage segment with The Brothers Of Destruction:
"To signal to the audience we had recognized the error of our ways and were going to try to lighten up, I pitched a quick cold open where Undertaker is sitting forlorn in his locker room when he's joined by Kane. Kane takes a breath and simply says, 'So… how was your week?'"
At No Mercy 2002, World Heavyweight Champion Triple H defeated Intercontinental Champion Kane in a Unification Match and Brock Lesnar defeated The Undertaker in a Hell in a Cell match to retain the WWE Championship.
Also Read: Vince McMahon Slapped WWF Legend With The Highest Fine Ever For Making The Undertaker Look Bad
WATCH: Sara (Undertaker's Ex-Wife) In A Bikini – Part 2:
• On This Day In Pro Wrestling History (October 5, 1985) – Saturday Night's Main Event 2
On this day in Pro Wrestling history on October 5, 1985, the World Wrestling Federation aired 'WWF Saturday Night's Main Event 2' on NBC.
The entire event was originally taped on October 3, 1985 at the Brendan Byrne Arena in East Rutherford, New Jersey.
Here are the results:
Flag match – WWF World Heavyweight Championship: Hulk Hogan (c) defeated Nikolai Volkoff
Uncle Elmer defeated Jerry Valiant
Paul Orndorff fought Roddy Piper to a double count-out
André the Giant & Tony Atlas defeated King Kong Bundy & Big John Studd by DQ
The Dream Team (c) defeated Lanny Poffo & Tony Garea