Bray Wyatt's death has brought sorrow to the pro wrestling world. He was one of the most creative minds to step foot inside the squared circle and was known for affecting people around him positively.
Saraya (fka Paige in WWE) wrote the following about Bray's passing:
"I can't believe I'm typing this. But RIP Windham. I knew you day 1 of moving to America, you were the biggest sweetheart and were loved by everyone who met you. I'm in shock.. sending all my love to the Rotunda family."
She also shared the following photo of her with Wyatt: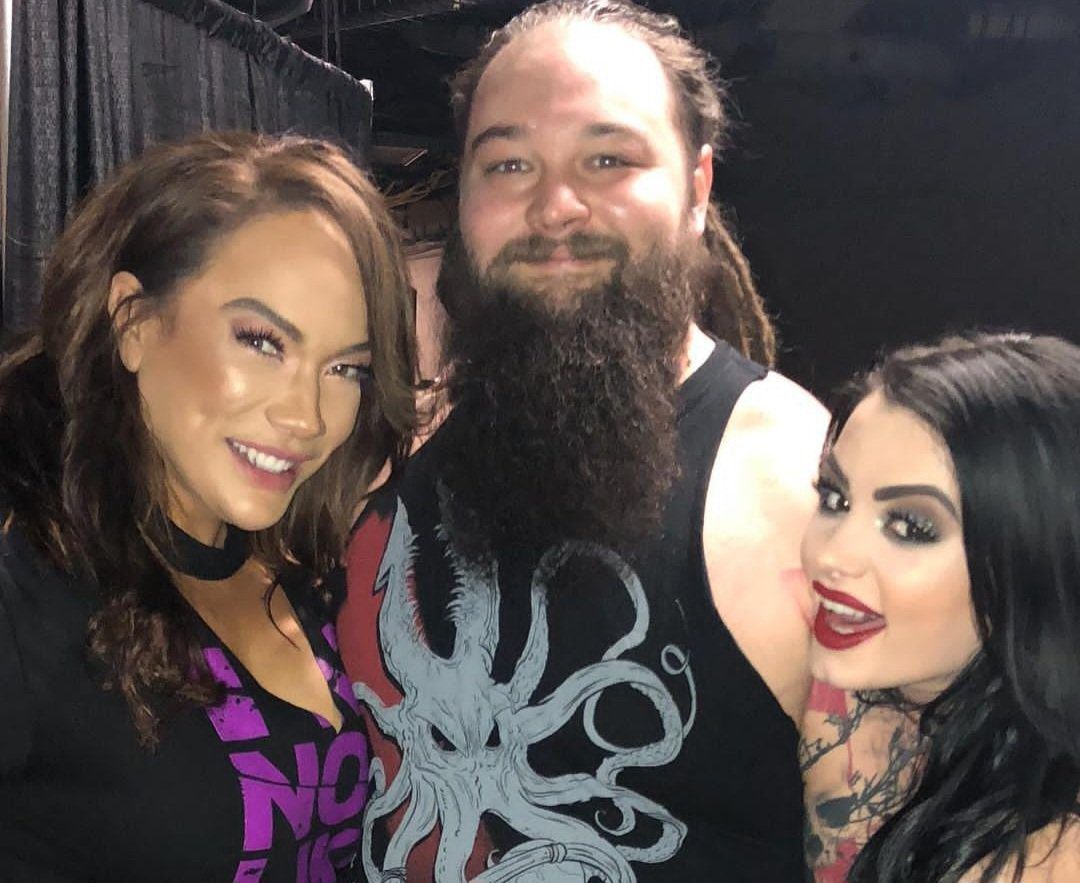 Intercontinental Champion Gunther wrote:
"Absolute tragedy. Our thoughts are with the Rotunda family."
The Usos broke kayfabe about their ongoing storyline (split between Jimmy & Jey Uso) and posted the following from their joint Twitter account:
"Rest in paradise uce."
This was their first tweet since the day of SummerSlam 2023, where Jimmy turned his back on Jey.
😢
Rest in paradise uce. pic.twitter.com/ibB30RoUNG

— The Usos (@WWEUsos) August 25, 2023
Jimmy & Jey feuded with The Wyatt Family about a decade ago.
One of the wrestlers who worked with Wyatt on numerous occasions is current World Heavyweight Champion Seth Rollins.
Rollins posted a video message on Twitter, in which he got emotional while remembering Wyatt.
Below is what Seth said:
"Truth is, I don't really… I still don't really know what to say.
Windham was a… unique cat. He was a simple yet deeply complex individual, and I loved him. I loved him. I loved working with him, but mostly I just loved being around him.
He was always joyful. Just, these eyes that drew you in and a smile and a laugh and a presence that just made you happy. And… we're all gonna miss that. I've been thinking mostly about his family. His kids.
And I wanted to, I don't know if wanted was the right word, I thought about going to SmackDown tonight, but that would entail leaving my family a day early, and I just keep going back to the conversation I had with Windham on the phone when Brodie (Lee) passed a few years ago.
And I just had called him to check on him, see how he was doing, and he… we talked and he was okay and I was okay and neither of us were really okay, but I just remember, we ended the conversation with 'I love yous' and 'goodbyes', and he said, I remember this very specifically, he said, 'You just go hug on that baby girl', talking about my daughter.
So I just feel like that's what I should be doing.
So, Windham, I love you man. I will miss you, we will all miss you. And I'll see you down the road hot boy."
You can watch Rollins' video message below:
— Seth Rollins (@WWERollins) August 25, 2023
Also Read: Randy Orton Is Hurting Over Bray Wyatt's Death
Latest News: The Oldest Wrestler In The World Has Passed Away