• There's No "Face Of WWE" Because Of Stone Cold Steve Austin, Says Eric Bischoff
During a recent interview with Lucha Libre Online, former WCW President Eric Bischoff talked about why there's no bonafied "Face of WWE" nowadays.
Bischoff said WWE doesn't want any wrestler to become bigger than the company and cited how "Stone Cold" Steve Austin walking out on the company in 2002 resulted in a lot of problems.
Here's what Bischoff said:
"It wouldn't surprise me that at some point, Vince McMahon made up his mind that he would never allow anyone talent to become so powerful that he or she would put WWE in a secondary position.
I think that's one of the reasons why you see a lot of top talent. Drew McIntyre is a great example. Roman Reigns is another great example. Either one or both of them could be that talent that could be 'the face of the company' as people like to refer to as.
Do I think either one of them will get there? I don't. Not because they don't have the ability, but because I don't think the business model for WWE wants it.
You've had wrestlers like Stone Cold Steve Austin, for example. They built the entire company around you and when things didn't go well, and there were personal issues, and legal issues, and contractual issues, Steve took his ball and went home. That's a very tough position to put the company into."
WATCH: WWF Diva Debra (Stone Cold Steve Austin's Ex-Wife) Stripped:
You can download our official WrestleFeed mobile app to check out more Wrestling news & Divas content. Tap here to download.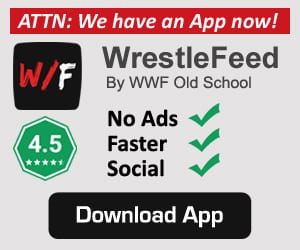 • On This Day In Pro Wrestling History (February 9, 2019) – Old School WWF Veteran Passed Away
On this day in 2019, we lost Old School WWF Veteran Salvatore Bellomo at the age of 67 due to cancer.
After touring the U.S., European & Canadian territories, Bellomo joined the World Wrestling Federation in mid-1982, where he was used as a likeable lower-mid card babyface guy.
Around the second half of 1984, Vince McMahon started to use Salvatore more as a 'Jobber To The Stars' to put over a lot of the talents that were acquired from other territories.
Sal did a great job as an undercard WWF Superstar until he left the WWF in 1987, went back to Europe, before he ended up in Tod Gordon's NWA Eastern Championship Wrestling, the promotion that eventually morphed into Extreme Championship Wrestling.
He stayed with ECW till mid-1994 and then continued to wrestle for smaller (independent) promotions all around the world.
Despite being semi-retired for quite a few years, Bellomo's last match happened as late as in 2018.
† REST IN PEACE
June 18, 1951 – February 9, 2019