– We have noted before on multiple occasions that WWE officials are planning a Shield reunion for the upcoming Raw exclusive PPV, TLC 2017 (since major names like Brock Lesnar & John Cena won't be wrestling on the show). A Shield reunion was teased during the ending segment of this week's Raw as well:
Well, now we have confirmation as well. The poster for TLC 2017 PPV has been leaked and it clears all the doubts: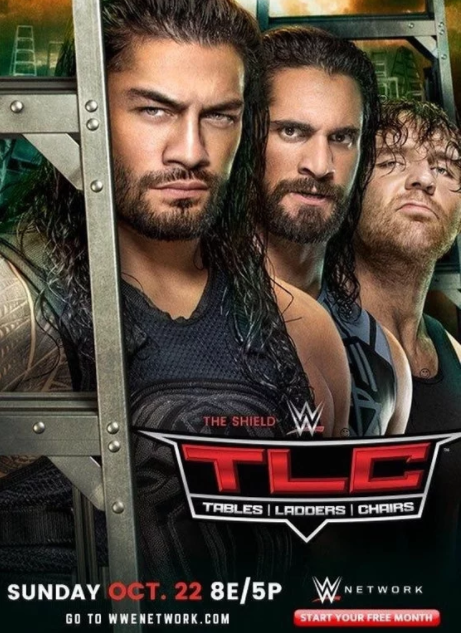 – During a recent interview on Chasing Glory with Lilian Garcia, WWE Diva Alicia Fox talked about her previous relationship with former WWE wrestler Wade Barrett and her mother living on the street for three years. Below is what she said:
"My mom was on the street for like three years. It was insane. That was horrible. That was horrible because for me I knew that she was giving me a lot of stress and anxiety that I was bringing to work. I didn't really realize it was having such a huge effect on me.
I couldn't even talk to Stu (Wade Barrett) about it. I love Stu to death, but he was not the kind of relationship partner that I felt comfortable to talk about where I was emotionally and that was something I felt like, 'Well, maybe I'm not worthy, maybe I shouldn't, maybe these emotions aren't right.'
It's just who he is. He's not an emotional person. We're just better friends. When I was really going through this thing when my mom was on the street and stuff, I wanted someone to talk about it with. So instead, I held it in my stomach and moved on. So my mom kept a diary of her whole experience on the streets.
Sleeping in cars, meeting people, doing this, doing that and she kept a diary of it. I keep telling her, 'Mom, you got to write this book out. You got to put it out there because people could probably really benefit, you know? Maybe somebody's in the same zone.'
I haven't brought myself to read it because from some of the stuff my mom's told me so far, it sounds really ugly and very scary and very life threatening."
– Speaking of TLC, you can watch the highlights from the TLC match from WrestleMania 17 below: