• OLD SCHOOL VIDEO HISTORY (September 28, 1991) – WWF Superstars of Wrestling
On this day in 1991, the World Wrestling Federation aired an episode of their weekly TV show 'WWF Wrestling Challenge'.
This episode was pre-taped at the Civic Center in Ottawa, Ontario, Canada and featured matches & storyline segments on the road to the 'WWF Survivor Series 1991' PPV.
Here's the card:
– WWF Intercontinental Champion Bret Hart vs. The Brooklyn Brawler
– The Natural Disasters vs. Joe Milano & Martin Roy
– The Rockers vs. Duane Gill & Barry Hardy
– The Warlord vs. Sonny Blaze
– Jim Duggan vs. Brian Donahue
– Ric Flair vs. Mark Thomas
• TNA Legend Comments On If He Regrets Not Taking WWE's Offer To Face The Undertaker
TNA Original Abyss will be inducted into the Impact Wrestling Hall Of Fame Class of 2018 during the Bound For Glory weekend next month.
Abyss will be the first home-grown TNA/Impact talent that will be inducted into the TNA/Impact Wrestling Hall of Fame.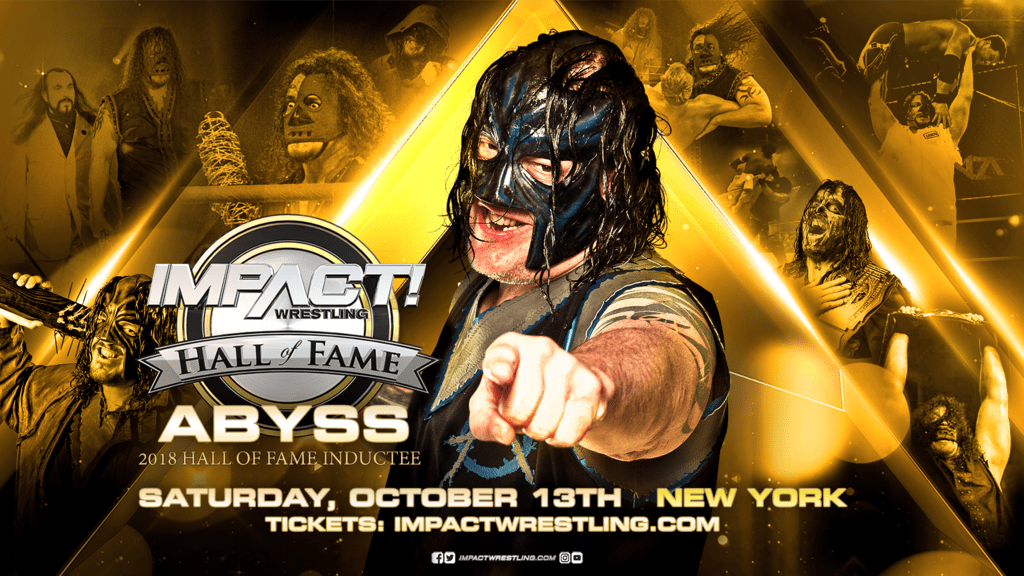 Abyss made his TNA debut back in June 2002 and has stayed with the company since then. Abyss is also the only Impact Wrestling Hall of Fame inductee that has never worked for WWE.
However, that doesn't mean WWE never offered him a contract. During an appearance on The Pancakes and Powerslams Show, Abyss revealed that WWE wanted to sign him back in 2006 for a program with The Undertaker, but he refused:
"There was interest from WWE. I was at a time in my career where my contract was coming up, but I decided to stay with TNA. It was definitely an offer there in 2006 to work with The Undertaker, but again, I was such a big part of the beginning of TNA, I was such a home-grown talent, a base talent who they were building around, I decided to stay.
I have no regrets, to be honest with you. Like I said, TNA has been my home and treated me so good, so in the end it was a pretty easy decision for me to make, and I've never looked back."
During a recent media call, Abyss was asked if he regrets not taking WWE's offer to face The Undertaker. Below is what Abyss said (credit to Wrestlinginc):
"No, I'm not going to say I wish it would have happened. If it would have happened, obviously it would have been a career highlight, no doubt. But it wasn't in the cards. I chose to stay with TNA and I've said it before and will say it again.
TNA was and is my home. Impact is my home. This company has done great things for me, personally and professionally, over the last 16 years. This company gave me a home. This company took a chance on me when I was a relative nobody. They gave me an opportunity to build my name. They gave me the platform to show the wrestling world and the fans what I can do.
This coming April I'll be in this business for half of my life and the majority of my adult life has been with TNA and Impact. There's nothing I'm more proud of. Sure, there's other opportunities but they just weren't for me. This is home.
I was part of the ground floor of this place. I was one of the original members of this place. I was one of the guys who laid the initial foundation of this company and that's always been more important to me than anything else."
During a recent appearance on Busted Open Radio, Abyss opened up once again about his loyalty to TNA Impact Wrestling despite ups & downs.
Below is what Abyss said:
"You know, and I know Tommy Dreamer can relate with the whole ECW thing. But you know Impact to me it is, it was — it's home. It's where I started you know what I mean? I spent practically my entire adult life there. This coming year I'll be fifty percent, almost half my life in the wrestling business and you know Impact took a gamble on me when I was a nobody.
I was coming out of Puerto Rico with a decent name but nothing to where nobody would really know who I was and TNA gave me a chance when nobody else was biting at the time. And to see the growth and to be part of the growth and you know I always tell people one of the reasons I never wanted to leave was because you know I was there since the beginning man. I was part of the original ground floor of that company.
Most of those Wednesday night pay-per-views in '02 and '03 we didn't know if there was going to be a next week. You know we came every week not knowing that the future of the company would be in 2003 and a lot of people said we were going to close up the doors in 6 months and they said that for about 12 years so you know.
To me, I'm so proud of what the company's done and there have been a lot of ups and downs no doubt and they've been well documented. But to me, it's a great company. We've struggled and we've really plowed through some obstacles along the way. It's been home and it's something I couldn't see myself leaving. So I'm very, very proud of it."
ALSO READ: SmackDown Star Returns To NXT To Reunite With His Former Tag Team Partner.