• ON THIS DAY IN WCW HISTORY (June 5, 1999) – WCW Worldwide
On this day in 1999, Ted Turner's World Championship Wrestling aired an episode of their weekly TV show 'WCW Worldwide'.
This episode featured pre-taped matches, interviews & storyline segments on the road to the "WCW The Great American Bash 1999" PPV.
The card of the exclusive content can be found here:
– Van Hammer vs. Barry Darsow
– Vampiro vs. Suwa
• Tony Khan Explains Why He Banned Hulk Hogan From AEW
After the massive riots broke out all over the USA due to George Floyd's death, WWE Hall Of Famer Hulk Hogan's ex-wife Linda Hogan took to Twitter to blame all African Americans for the bad things happening out there.
She said that all the people who are looting and stealing from the stores are African Americans, and if they want their voices to be heard they need to be civilized.
Below is what she tweeted (and later deleted):
"Watching the looting, it's all afro Americans, not sure how robbing and stealing set the record straight but if they want to be heard they need to be civilized."
AEW President Tony Khan already made his stance clear on the whole situation a few days ago. He's fully supporting the 'Black Lives Matter' movement.
He didn't like what Linda said, and went on to make the big decision of banning her from all AEW events.
He also added that her ex-husband, Hulk Hogan, is already among the banned people in the company.
You've now joined your husband in being banned from all AEW shows. Congratulations.

— Tony Khan (@TonyKhan) June 2, 2020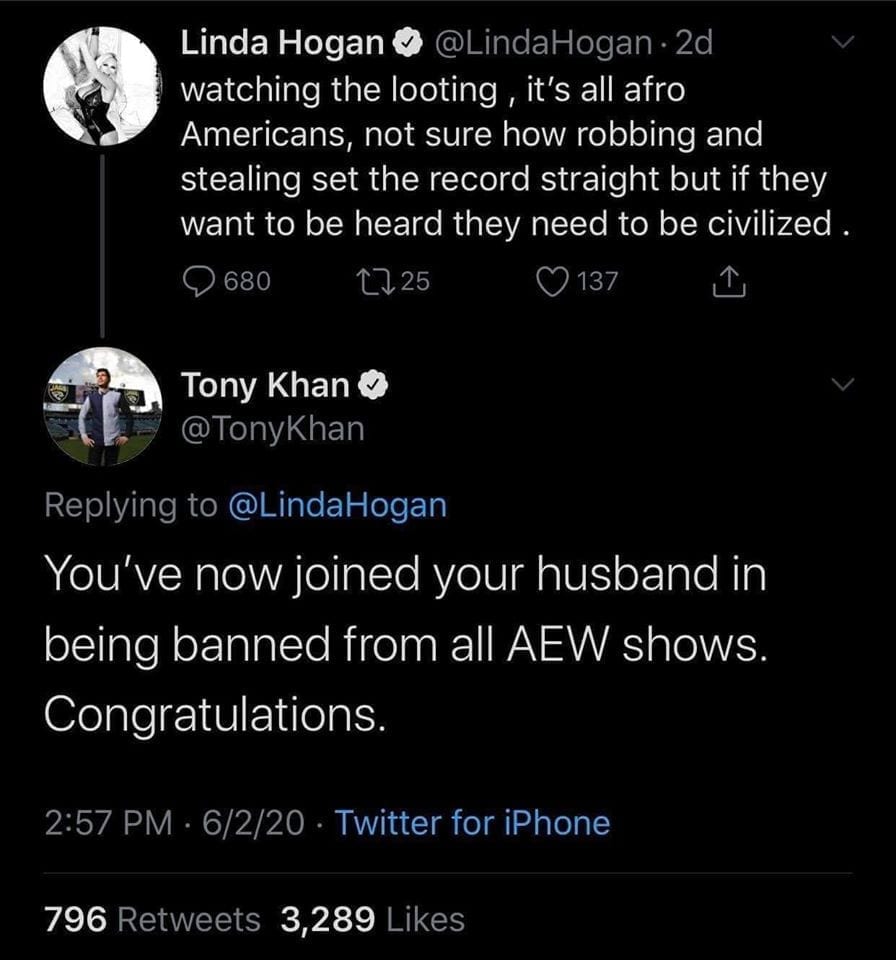 In an update to this, Tony told the Wrestling Observer that he can't use Hogan in AEW after what the Hulkster said in his leaked $ex tape several years ago (tape was then released in 2015):
"What he said on the tape, long before George Floyd, I've told people I can't work with Hulk Hogan.
How can I look my Black friends, football players, employees in the face or myself in the mirror after the things [Hulk] said and has never given an adequate apology for?" He can't blame what he said on tape on the dangers of social media."
Hogan returned to WWE after he apologized to the entire WWE locker room backstage before the Extreme Rules 2018 PPV.
Hogan also appeared on several news shows and apologized for his comments.