• Tony Khan Has Invited UFC To AEW's Next PPV
As we reported last night, AEW President Tony Khan and AEW Commentator Jim Ross were in attendance for last night's UFC 273 pay-per-view.
Both were shown in attendance. Below is a photo: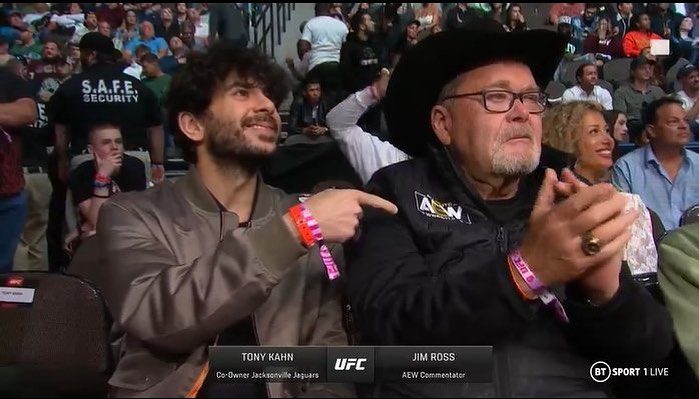 During a recent interview with ESPN, Tony was asked some question regarding AEW's upcoming events.
Below are the highlights:
On when the Blood & Guts match (AEW's version of War Games) will return:
"I'd say to expect Blood & Guts this summer."
On if the Stadium Stampede Match will return:
"That I'll have to get back to you on. I've thought about it. It's a very different wrestling world now than it was during the pandemic. I think it's a great match, a signature match for us that people really enjoyed.
But some of the reasons we presented that match were because of the challenges that existed in the world because of the pandemic, as far as presenting sporting events with live fans. That doesn't really exist in this live-event pandemic."
On a possible relationship with UFC:
"I asked them to come (to AEW Double Or Nothing 2022 PPV in May). I don't know. We'd have to see. If we could find a way to make that work, I think it would be great.
I'm just excited to be out there for the week. Hopefully, I can see UFC President Dana White and UFC Chief Business Officer Hunter Campbell in Vegas."
Also Read: Tony Khan Explains His Theory Of Bots Spreading Hate Against AEW
WATCH: Sara (Undertaker's Ex-Wife) In A Bikini – Part 2:
• Legendary WWF Manager Would Have Celebrated His Birthday
Today would have been the 68th birthday of legendary Old School WWF Manager Paul Bearer (Real name: William Moody).
Paul Bearer was most famous for managing The Undertaker in the WWF, but also managed Kane, Mankind & Vader there, as well as managing Stars like Rick Rude, Matt Borne & The Dingo Warrior during the early years of his career in WCCW, where he was known as Percy Pringle III.
He worked for the World Wrestling Federation as an on-screen manager from 1991 until 2000, but returned on several occasions in 2004, 2010 and 2012.
HAPPY BIRTHDAY & † REST IN PEACE
April 10, 1954 – March 5, 2013