Trish Stratus came out on this week's RAW and bragged about defeating Becky Lynch at Night Of Champions. Trish then introduced Zoey Stark.
Zoey came out wearing a "Thank You Trish" top. Zoey said she took the easy way out to get to the top by aligning with Trish because she's smart, and that it's an honor to be mentored by a legend like Trish.
Trish had a bruise on her face and said if Becky shows up, her friend Zoey will show Becky what's up.
Becky came out in her Night Of Champions gear and said they should restart their match. Zoey ran at Becky to attack her, but got laid out. Becky then attacked Trish, but the numbers game ended up being too much for Becky, as Trish & Zoey ganged up on Becky.
Zoey hit Becky with her finisher: Z-360. Trish & Zoey then put a "Thank You Trish" top on Becky's torso and left.
According to PWInsider, Trish's face bruise is a real injury, and not makeup, as she was seen sporting the bruise on her flight back to Canada.
It's possible Trish suffered this bruise due to the punch she took from Becky at the start of their match at Night Of Champions.
You can check out this bruise below: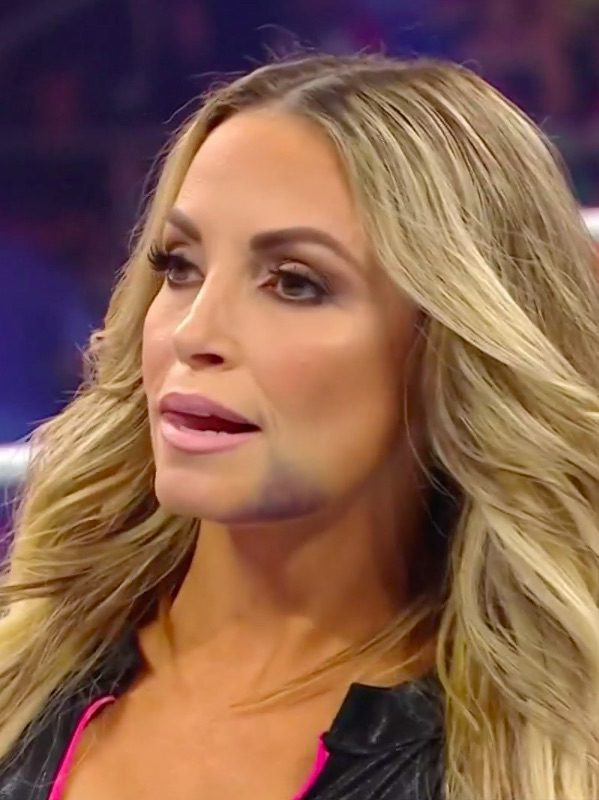 Speaking of Trish dealing with injuries, she wrestled at WrestleMania 39 with a partially torn hamstring.
New Video: Trish Stratus In A Horny Pose: