We noted earlier how former WWF wrestler Brian Christopher (Grandmaster Sexay of Too Cool) was arrested for theft of services of less than $1000. He has a hearing today.
FOX 13 Memphis is reporting that Brian (along with Terry Teague) left a Hampton Inn hotel without paying his bill (which was $802).
The hotel manager called the police and reported that these two men had left without paying their hotel and that the credit card they used didn't have enough money to pay their bill.
Brian & Terry noted that they didn't have money to cover the charge and were booked for theft of services of less than $1000.
For those who don't know, Brian the son of WWE Hall of Famer Jerry "The King" Lawler.
You can check out his mugshot below: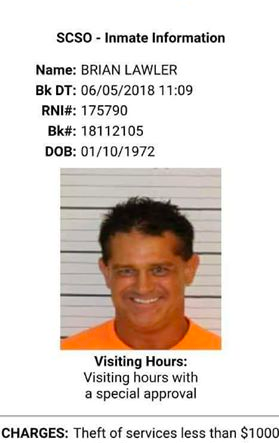 We noted back in March that Brian was beaten up badly by Jonathan Ryan Clark (a.k.a. Chase Stevens) in Stevens' hotel room.
Brian (age 46) suffered the following injuries:
– Fractured skull
– Broken nose
– Broken orbital bone
– Teeth knocked out
Police found Brian intoxicated in the hotel lobby and arrested Stevens and charged with "Battery – Serious Bodily Injury."
Brian could've suffered even more injuries had the hotel employees not interfered. Stevens worked an indy show in Clarksville, TN the following weekend and is a former Golden Gloves Boxing Champion.
Below is the booking photo of Stevens and photo of a badly injured Brian Christopher (credit to Wrestlinginc):
— World Wrestling News (@WWENewsMafia) March 16, 2018
— World Wrestling News (@WWENewsMafia) March 16, 2018
If you don't remember Brian in the World Wrestling Federation, you can watch a couple of videos below: