• Update On Who Got Knocked Out During Backstage Fight Started By CM Punk In AEW
As seen in the main event of last night's AEW Double Or Nothing 2022 pay-per-view, CM Punk defeated Jon Moxley to win back the AEW World Championship.
During the post-PPV press conference, Punk was asked about his shoot promo on Hangman Page on Dynamite a few weeks ago.
Punk noted that he wasn't happy that Hangman went into business for himself because of a made-up rumor that he's blocking Colt Cabana (real name: Scott Colton) from appearing on AEW TV.
CM Punk also claimed that AEW's EVPs (Kenny Omega & Young Bucks) helped in spreading these false rumors about him.
Below is what Punk said:
"I haven't had anything to do with Scott Colton for a decade, probably didn't want anything to do with him for even longer than that.
It's f**king unfortunate that I have to come up here and speak on this one on my time, and this is a f**king business.
Why I'm a grown a$$ adult man and I decide not to be friends with somebody is nobody else's f**king business, but my friends if I fall backwards will catch me. Scott Colton, I believe, never would have.
My problem was I wanted to bring a guy to the top that did not want to see me at the top. You can call it jealousy, you can call it envy, whatever the f**k it is.
A relationship with Scott Colton ended long before I paid all of his bills. I have every receipt. I have every invoice. I have every email. I have an email where he said, and I quote, 'I agree to go our separate ways. I will get my own lawyer, you do not have to pay anymore.' That's an email I have.
The only reason the public did not see [that email] is when I had to counter-sue him for discovery, we discovered that he shared a bank account with his mother — that's a fact. As soon as we sent a subpoena to old Marsha, he sent an email asking, 'oh, can we please drop all this?'
Now, it's 2022. I haven't been friends with this guy since late 2013/2014 and the fact that I have to sit up here, and we have irresponsible people who call themselves EVPs who couldn't manage a target, and they spread lies and bullsh*t, and they say that I got him fired when I want f**k all to do with him.
I want nothing to do with him. I don't care where he works. I don't care where he doesn't work. Where he eats, where he sleeps and the fact that I have to get up here and do this in 2022 is f**king embarrassing and y'all are at fault, then f**k you. If you're not, then I apologize.
But, what did I ever do in this world to deserve an empty-headed dumb f**k like Hangman Adam Page to go out on national television and go into business for himself? For what? What did I ever do? Didn't do a goddamn thing.
I'll tell you why I am upset about it. If you're an EVP you don't try to belittle your top babyface to try to get your niche audience that's on the internet to hate him for some made-up bullsh*t rumor.
Really pissed me off. Stepping on your own d*ck. Trying to make money, sell tickets, fill arenas and these stupid guys think they're in Reseda."
You can watch it below:
According to Fightful Select, Omega & Young Bucks (who became the inaugural AEW Trios Champions at All Out) were pissed off and threatened to walk out over Punk's comments during the media scrum.
Steven Muehlhausen then reported that Punk got physical with Young Bucks:
"Sources: There was an altercation between CM Punk and The Young Bucks early Monday.
The Bucks confronted Punk about his comments at the scrum. It did get physical with Punk throwing punches at least one member of The Bucks.
A number intervened to separate everyone. More 2 come."
Fightful later added that Nick Jackson of The Young Bucks got knocked out after AEW Producer & Punk's friend Ace Steel threw a chair at him.
Steel also bit Kenny Omega and pulled his hair. For those who don't know who Steel is, he appeared in a segment with Punk on last week's Dynamite: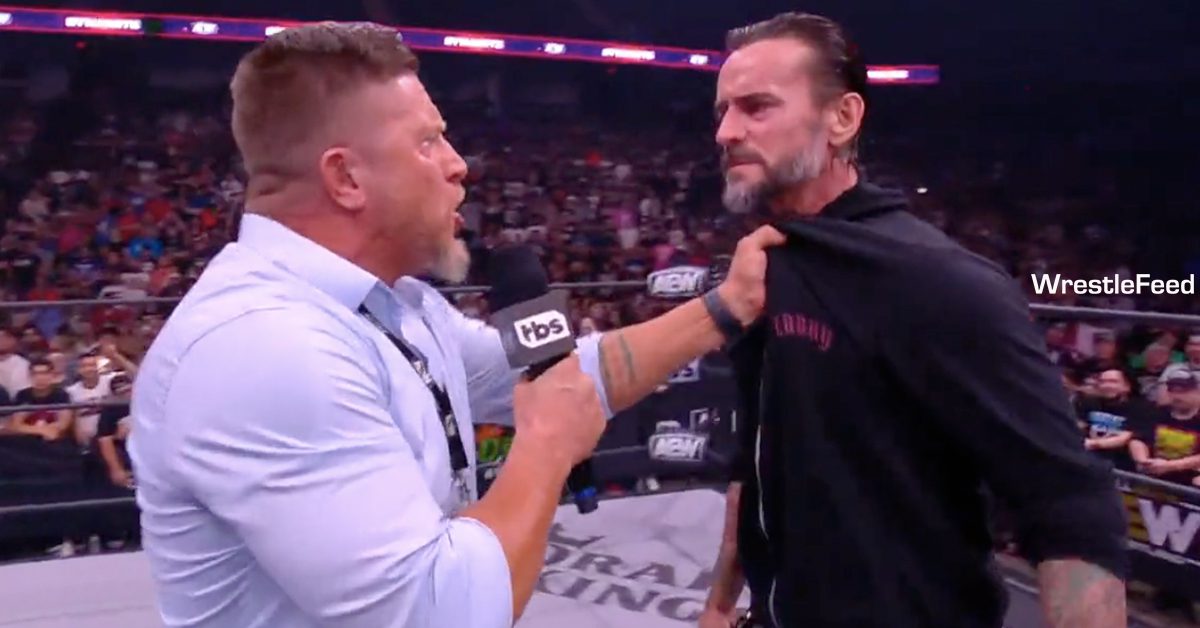 Also Read: WWE RAW Results From Tonight – Braun Strowman Reveals His Next Move, Another Wrestler Gets 1st Name Back
WATCH: Revealing Videos Of Former ECW/WWE Diva Dawn Marie (Part 3):
• On This Day In WCW History (September 5, 1992) – WCW Power Hour
On this day in 1992, Ted Turner's World Championship Wrestling aired an episode of their weekly TV show 'WCW Power Hour'.
This episode featured pre-taped matches, interviews & storyline segments on the road to the 'WCW Halloween Havoc 1992' PPV.
The card can be found below:
Sting/Nikita Koloff vs. Scrubs
Vader/Super Invader vs. Scrubs
Van Hammer vs. Scrub
Ron Simmons vs. John Black
Cactus Jack vs. Ian Weston
Ricky Steamboat/Dustin Rhodes/Barry Windham vs. The Barbarian/Dick Slater/Greg Valentine