• ON THIS DAY IN WWF HISTORY (February 16, 1992) – WWF Wrestling Challenge
On this day in 1992, the World Wrestling Federation aired an episode of their weekly TV show 'WWF Wrestling Challenge'.
It was broadcasted from the Municipal Coliseum in Lubbock, Texas and featured pre-taped matches, promos & storyline segments on the road to the 'WWF WrestleMania VIII' PPV.
The card can be found right here:
– Tito Santana vs. Dale Wolfe
– The Mountie vs. Terry Daniels
– Hacksaw Jim Duggan & Sgt. Slaughter vs. The Brooklyn Brawler & Brian Elmore
– Undertaker vs. Ed Robinson
– Bret Hart vs. BA Dalton
• Val Venis Fires Back After Getting Heat For Recent Comments
As we noted yesterday, WWF Attitude Era Superstar Val Venis expressed his displeasure with the current state of Professional Wrestling by tweeting the following:
#WWE drops "Womens" from the WOMENS TITLE!#IMPACT makes a Women the World Heavyweight Champion#AEW makes a man the WOMENS CHAMPION!

WHO THE FUCK ARE THESE INSANE SOCIAL JUSTICE WARRIORS WITH PENCILS AND PAPERS RUINING THE INDUSTRY I LOVED SO MUCH?

— Val Venis #DigiByte (@ValVenisEnt) February 14, 2020
Today I identify as a Great Dane. Gonna enter the Westminster dog show and win the XL Dog title. pic.twitter.com/WheDgVUPgr

— Val Venis #DigiByte (@ValVenisEnt) February 15, 2020
The Soy Boy Social Justice Warriors and anti-women morons who have taken over the writers duties in pro wrestling have forced The Big Valbowski to adjust his catch phrase to better reflect reality. pic.twitter.com/fxSS5QS3Gw

— Val Venis #DigiByte (@ValVenisEnt) February 14, 2020
The Big Valbowski is all pro women.

When I turn on the mind numbing boob-tube to watch two women wrestle for the championship, I expect to see REAL WOMEN wrestling.

— Val Venis #DigiByte (@ValVenisEnt) February 14, 2020
Pro-Wrestling Agent Eric Simms posted the following regarding this on Facebook:
"Just spoke to Sean Morley Val Venis about his comments on Nyla Rose. He is pro Nyla but anti writing on with AEW. He has some strong opinions based on facts.
I suggested getting in the ring and challenging Nyla Rose to a match and he agreed to do it. Now we need a promotion to do it with. I think my friends at Titan Championship Wrestling would have the perfect platform for him / them to have a match."
This led to AEW Women's World Champion Nyla Rose tweet the following:
*xbox noise* pic.twitter.com/iEBMgB9J6D

— ??NYLA ROSE GOLD?? (@NylaRoseBeast) February 15, 2020
Matt Hardy's wife, Reby Hardy, went on to take a shot at Venis as well: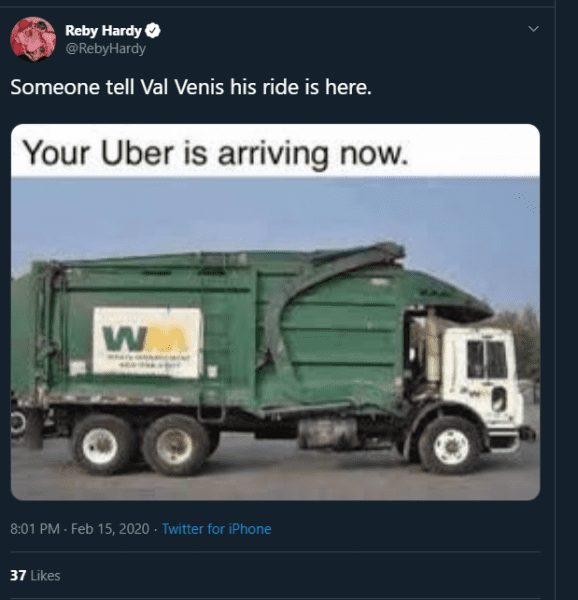 Val fired back with the following tweet after this:
R. SKY seems to WILFULLY ignore injustice against REAL Women while coddling the "feelings" of a MAN and his SJW subjugating REAL Women.

Megan Youngren set to be first openly transgender athlete to compete at U.S. Olympic marathon trialshttps://t.co/xvf8vbO7Ih https://t.co/i91YJDXQHm pic.twitter.com/qKYXTLE4c7

— Val Venis #DigiByte (@ValVenisEnt) February 16, 2020
I've nothing against #NylaRose. I'm against her/him(?) occupying the Womens title. There are REAL women who are pushed aside & forgotten about who should have won scholarships 4 Track & Field, powerlifting & other sports b/c a few MEN "feel" like WOMEN. Paint your own narrative. pic.twitter.com/zirLgwuhtH

— Val Venis #DigiByte (@ValVenisEnt) February 16, 2020
The factual subjugation of women is ignored by default by leftist morons. Yet they scream "pro womens rights." Delusional they are. https://t.co/bx1puk1Hfm pic.twitter.com/HQ6CunuSJ7

— Val Venis #DigiByte (@ValVenisEnt) February 16, 2020
FACT: The Big Valbowski is FAR more tolerant of the trans community, #NylaRose & Fairness than the delusional Social Justice Warriors are of freedom of speech. Social Justice Warriors are proving how fascist they really are.

FACT: I'd make a MAN out of Nyla Rose is short order.

— Val Venis #DigiByte (@ValVenisEnt) February 15, 2020
Real MEN sit back in awe and appreciate a MANS WORKRATE.

Soy Boys trigger, meltdown, call them names and make insane claims.#WorkRate #TheGrind #Realism #attitude #wwe #MakeWrestlingGreatAgain #WTFHappenedToWrestling#KurtAngle VS #ValVenis
WATCH HERE ?https://t.co/uX6PmDML9P

— Val Venis #DigiByte (@ValVenisEnt) February 16, 2020
WATCH: Lana Teases Her Fans With New Hot Video: