• Vince McMahon Featured On The Cover Of Wall Street Journal (Photo)
It is the end of an era. After running the WWF/WWE for 40 years, Vince McMahon has announced his retirement on Friday.
Below is what he tweeted today:
"At 77, time for me to retire.
Thank you, WWE Universe.
Then. Now. Forever. Together. #WWE #thankful"
At 77, time for me to retire.
Thank you, WWE Universe. 
Then. Now. Forever. Together. #WWE #thankful

— Vince McMahon (@VinceMcMahon) July 22, 2022
It's safe to say that Vince's retirement is due to the hush money scandal that is being investigated right now.
McMahon was featured on the cover of Saturday's Wall Street Journal, with the headline being:
"On the Ropes for Alleged Misconduct, McMahon to Retire"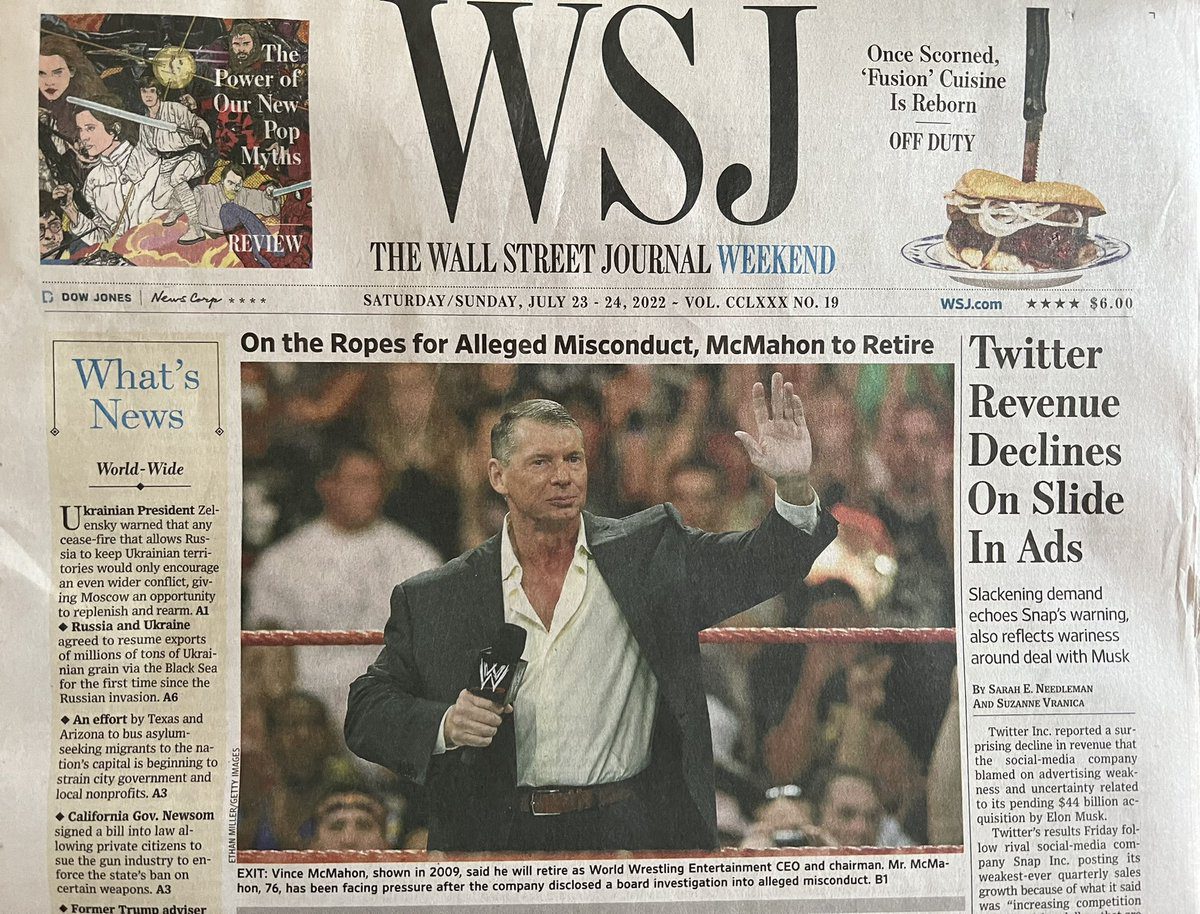 Below is Vince's full statement on his retirement:
"As I approach 77 years old, I feel it's time for me to retire as Chairman and CEO of WWE.
Throughout the years, it's been a privilege to help WWE bring you joy, inspire you, thrill you, surprise you, and always entertain you.
I would like to thank my family for mightily contributing to our success, and I would also like to thank all of our past and present Superstars and employees for their dedication and passion for our brand.
Most importantly, I would like to thank our fans for allowing us into your homes every week and being your choice of entertainment. I hold the deepest appreciation and admiration for our generations of fans all over the world who have liked, currently like, and sometimes even love our form of Sports Entertainment.
Our global audience can take comfort in knowing WWE will continue to entertain you with the same fervor, dedication, and passion as always.
I am extremely confident in the continued success of WWE, and I leave our company in the capable hands of an extraordinary group of Superstars, employees, and executives – in particular, both Chairwoman and Co-CEO Stephanie McMahon and Co-CEO Nick Khan.
As the majority shareholder, I will continue to support WWE in any way I can. My personal thanks to our community and business partners, shareholders, and Board of Directors for their guidance and support through the years. Then. Now. Forever. Together."
Also Read: Vince McMahon Made A Bold Promise About Shane McMahon At Royal Rumble 2022
WATCH: The Iron Sheik Hated Andre The Giant
• Old School ECW Veteran Would Have Celebrated His Birthday
Today would have been the 55th birthday of Old School ECW Veteran Pitbull #2 (Real name: Anthony Durante).
Pitbull #2 wrestled for Extreme Championship Wrestling from 1994 till 1997, teaming with Pitbull #1 Gary Wolfe as 'The Pitbulls'.
On September 25, 2003 Anthony Durante and his girlfriend died of a Fentanyl overdose, but the bodies were found days later, while their kids, an 8 month old girl and a 21 month old boy, were alone in the house among their dead bodies.
HAPPY BIRTHDAY & † REST IN PEACE
July 26, 1967 – September 25, 2003