• Old School WWF Legend Would Have Celebrated His Birthday
Today would have been the 52nd birthday of Old School WWF Legend "Latino Heat" Eddie Guerrero (Real name: Eduardo Gory Guerrero Llanes).
Eddie started his career in Mexico (CMLL & AAA) and in Japan, where he wrestled as the second incarnation of the 'Black Tiger' gimmick in NJPW.
In 1995, he wrestled for Extreme Championship Wrestling, where he had a legendary rivalry with Dean Malenko, before Eric Bischoff signed Eddie to a contract for Ted Turner's World Championship Wrestling, a promotion he had wrestled for as a jobber a couple of times in 1989 & 1991, but was now hired as a main roster talent.
He stayed with WCW till January 2000, when him, Perry Saturn, Chris Benoit & Dean Malenko jumped ship to the World Wrestling Federation, where they were known as 'The Radicalz'.
His on-screen kayfabe relationship with legendary WWF Women's Wrestler Chyna, made for one of the best storylines of the year 2000.
Eddie Guerrero defeated Brock Lesnar for the WWE Championship in the main event of the 'WWE No Way Out 2004' PPV, but passed in November 2005 from acute heart failure due to underlying atherosclerotic cardiovascular disease.
HAPPY BIRTHDAY & † REST IN PEACE
October 9, 1967 – November 13, 2005
• Vince McMahon Wants Cain Velasquez To Do Something About His Physique
As seen on last week's episode of SmackDown, former two time UFC Heavyweight Champion Cain Velasquez made his WWE debut and attacked new WWE Champion, Brock Lesnar.
You can watch it below:
Paul Heyman posted photos of new WWE Champion Brock Lesnar and Cain Velasquez from SmackDown on his Instagram page and AEW World Champion Chris Jericho commented the following under it:
"Who's the skinny fat guy?"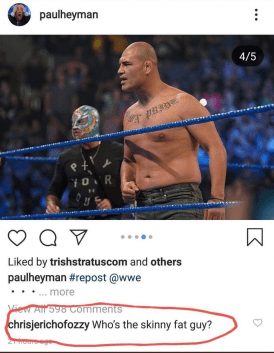 According to Brad Shepard, Vince McMahon isn't impressed with Cain's physique and wants him to do something about it:
"According to a source in WWE, Vince McMahon wants Cain Velasquez to get ripped, if he's going to commit. The feeling is that he doesn't look like a former UFC Heavyweight Champion right now (where as for example, Brock Lesnar does).
I'm told Velasquez is really nice and willing to learn."
WATCH: Fan Grabs Natalya's Juggs On Live WWE TV: