• "We are kicking your a$$ every Wednesday night" – WWE Hall Of Famer On AEW vs. NXT
While speaking on his Grilling JR podcast, WWE Hall of Famer & current AEW Commentator Jim Ross sarcastically gave his opinion on WWE NXT competing with AEW Dynamite on Wednesday nights.
Below is what he said:
"How's that working? How's that brilliant evil strategy? Oh, I will get my team together. I will make a phone call to USA Network and I will get them to put NXT head to head against this fledgling company that they will see once or twice and they will be done.
It's just the old money mark thing so, who's the money mark? Going head to head is good in the boardroom. But at the end of the day, you bring more people to the television set that are wrestling fans at 8 o'clock on Wednesday nights because you have two brands now that the audience can sample.
They can watch one. They can DVR one. They can switch back and forth. But to think it's going to cripple it, they don't look at the bigger picture. It's just business.
It's been the excuse in wrestling forever. Unscrupulous, unethical situations are always justified by saying, well it's just business. Ok, well it's just business that we are kicking your a$$ every Wednesday night."
Also Read: Chris Jericho Reacts To NXT Halloween Havoc Drawing Higher Viewership Than AEW Dynamite
WATCH: Natalya's Sister Wants To Show Her Juggs:
You can download our official WrestleFeed mobile app to check out more Wrestling news & Divas content. Tap here to download.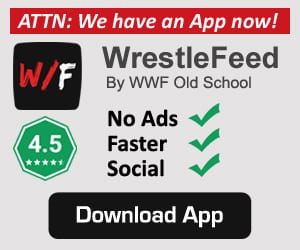 • Old School WWF Veteran Celebrates His Birthday
Old School WWF Veteran Alex "The Pug" Pourteau celebrates his 51st birthday today.
During the late 80s and early 90s Alex "The Pug" Pourteau wrestled for various different promotions such as World Class Championship Wrestling (WCCW), Memphis Wrestling (USWA), World Championship Wrestling (WCW), World Wrestling Council (WWC) and the Global Wrestling Federation (GWF), before he signed with the World Wrestling Federation (WWF) during the New Generation Era in 1996.
They gave Alex the entrance theme song they had previously used for The Steiner Brothers in 1992-1994, but for most of his WWF stint, he was doing televised jobs for mid-carders & main event guys.
He left the company in 1997 and later returned to WCW for a short period of time, wrestling mostly on smaller weekly TV shows such as 'WCW WorldWide' or 'WCW Pro'.
"The Pug" can still be seen wrestling on the independent scene every now and then.
HAPPY BIRTHDAY ALEX POURTEAU!