• On This Day In Pro Wrestling History (November 26, 1995) – WCW World War 3 1995
On this day in Pro Wrestling history on November 26, 1995, Ted Turner's World Championship Wrestling aired 'WCW World War 3 1995' LIVE on PPV from the Norfolk Scope in Norfolk, Virginia.
This was the 1st one out of only 4 annual 'WCW World War 3' pay-per-views that aired between 1995 and 1998.
The tagline of the event was "Sixty Men… Three Rings… Three Giants… One Battle Royal".
The absolute highlight & main event was the 60-man 3 ring battle royal for the vacant WCW World Heavyweight Title.
Future World War III PPVs (1996-1998) would only have the #1 contender spot on the line for the winner of the 60-man battle royal.
The results are here:
– WCW World Television Championship: Johnny B. Badd (c) defeated Diamond Dallas Page
– Taped Fist match: Big Bubba Rogers defeated Jim Duggan
– Bull Nakano and Akira Hokuto defeated Mayumi Ozaki and Cutie Suzuki
– WCW United States Heavyweight Championship: Kensuke Sasaki (c) defeated Chris Benoit
– Lex Luger defeated Randy Savage
– Sting defeated Ric Flair
– Randy Savage won a 60-Man World War 3 battle royal vacant WCW World Heavyweight Championship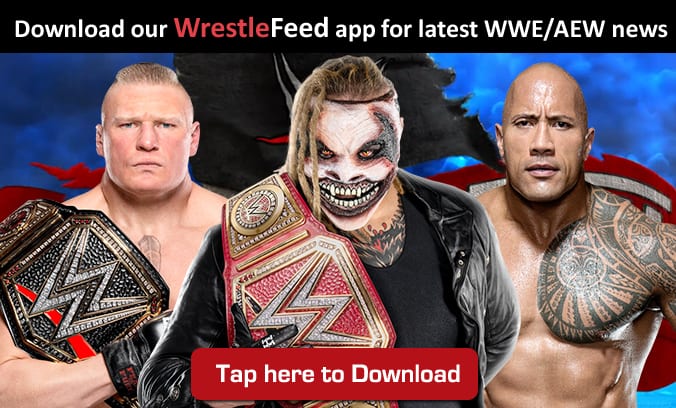 • What Happened After RAW Went Off The Air Last Night?
As seen in the main event of last night's RAW, Seth Rollins vs. Kevin Owens ended via DQ when AOP came out to attack Owens.
Rollins (who's now a heel) then ended the show by delivering two Stomps to Owens.
After RAW went off the air, Drew McIntyre came out and laid out Owens with a Claymore Kick.
McIntyre then begins to cut a promo while the WWE ring crew is setting up a Steel Cage in the ring. McIntyre called out The Fiend for a match and his wish was granted.
The Fiend absolutely destroyed McIntyre during their Steel Cage match and won after hitting a Sister Abigail and then escaping through the cage door.
Below are a couple of videos from the match:
Dark match on #RAW was Drew McIntyre vs The Fiend in a cage match. Holy shit. We're not worthy. pic.twitter.com/kWy4G6gNdo

— Ḿ̸͠҉A̡͘͢X̷̷̕͜͜ ̕̕͢P̀̀͜͡O̧W҉͢É̶͡Ŗ̵̧͢͜ (@maxolotl67) November 26, 2019
Fiend killed McIntyre. It was awesome pic.twitter.com/j2KaMkcQPq

— titus worldwide choppers (@GARDNERWINSHEW) November 26, 2019
Drew McIntyre about to fight someone in a cage. Fiend? pic.twitter.com/8u78S5kCIq

— Brennan (@mdbrennan535) November 26, 2019
Also Read: Matt Hardy Says He's Going Through A Tough Period Of Life After Return On RAW
WATCH: Fan Tries To Touch Sasha Banks' Butt: