– Raw Star Recalls A Story Of Almost Burning Down His Apartment
Below is a clip from WWE Story Time where Raw Superstar Big Cass recalls a story of almost burning down his apartment:
– WWE Commentator's Brother Wants To Return To WWE To Beat Up Enzo Amore
As we noted before, WWE Commentator Corey Graves and WWE Cruiserweight Champion Enzo Amore took shots at each other on Twitter:
My son just ran to second base, and danced like @real1 to celebrate.

I have failed as a father.

— Corey Graves (@WWEGraves) September 30, 2017
Nah u didn't fail as a father!? U failed as a wrestler, thats why they dressed ya up in a suit N tie & told ya 2 sit down #HowYouDoin #Champ https://t.co/mdkrvflAfY

— Enzo Amore (@real1) October 1, 2017
Below is what Corey Graves' brother and former WWE Developmental wrestler Sam Adonis tweeted about this:
Maybe it's Time I go Back to WWE and kick this idiots teeth down his throat!!? https://t.co/SOeqtooJ4n

— Sam Adonis (@RealSamAdonis) October 1, 2017
– Former Raw Champion Comments On A Possible Heel Turn
During a recent interview with Metro, former Raw Women's Champion Bayley commented on a possible heel turn for her:
"It's something I think about because I know anything is possible when you're with WWE. I don't know if I have to go to the dark side, although I do read all the tweets and I do know it's what the fans are kinda hoping for.
As a performer I need to change in the ring, to be a little bit more aggressive and go about things in a different way rather than Bayley following the rules all the time. I might have to bend the rules a little bit to get what I want this time around. I realised when I was out with my injury that I need to go about things differently and not let people push me around so much."
– "Winners Take All" Match Being Planned For TLC 2017?
As we noted before, The Shield (Roman Reigns and Raw Tag Team Champions Seth Rollins & Dean Ambrose) will be reuniting for TLC 2017. They're expected to face the trio of Intercontinental Champion The Miz, Sheamus & Cesaro.
While nothing is confirmed as of now, there have been talks of doing a "Winners Take All" Tables, Ladders & Chairs match between the two teams, where The Miz would retain the Intercontinental Title and Cesaro/Sheamus will win the Raw Tag Team Titles if they win the match, or Roman Reigns will win the Intercontinental Title and Rollins/Ambrose will retain the Title if they win the match.
We'll keep you updated regarding this. Speaking of TLC 2017, below is the poster for this PPV: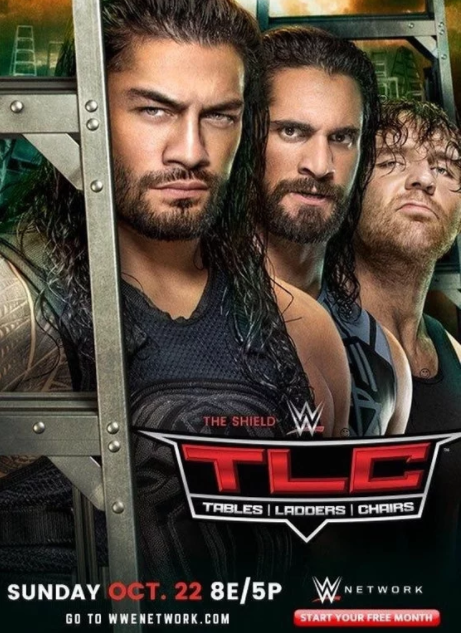 – WWF Highlights: Team WWF vs. Team Alliance (Survivor Series 2001)