• "Worst MMA Fighter of all time recommended this" – AEW Fans Leave Funny Reviews For Mindy's Bakery Because Of CM Punk
During his AEW All Out 2022 media scrum rant, CM Punk name dropped Mindy's Bakery.
AEW fans have found the Google listing of this bakery and left funny reviews, where they mocked Punk and repeated his comments from the media scrum.
You can read some of them below:
"The greatest muffins probably ever. When you're old, tired, hurt, and work with f*****g children this is the place for you."
"Mindy's Bakery needs a franchise in the UK, so I can eat muffins with my boss too, and then go punch the managers I don't like in the face at my workplace."
"My buddy Phil and I enjoyed this place so much yesterday. Best muffins and hot chocolate in town. Right afterward we went outside I PUT HIM in the GTS. Thank you Mindy for a great lunch and thank you to my friend Phil for putting me over."
"These muffins are great when I'm hurt, and old, and tired, and working with f'n children."
"I heard these muffins were the best in the world but I would say they are actually ELITE, would love it if a location was opened in the great state of NORTH CAROLINA."
"I share a bank account with my mother and now I can finally go to sleep in peace after trying out this glorious bakery."
"My buddy Ace Steel and I decided to grab a bite and boy was it worth our buck."
"Flew all the way from the UK to Chicago for a Mindy's!
I'll probably lose my job when I get home as the holiday request was refused so I just threw hands at my boss giving him a black eye.
Guy's a thigh slapping bi**h anyways."
"I would have given them 6 stars if they were in the Tokyo Dome. The best pastries to enjoy before important meetings with the EVPs."
"The muffins taste so good, that the EVPs of my company have put out feelers to their competitor."
"Enough sugar and carbs to call out everyone you hate in the Media Scrum. But then again who cares what the media says?! Pudding and Burger is definitely terrific. Go to Mindy's everyone."
"Truly ELITE savoury and sweet baked goods and gorgeous hot chocolate. Please consider introducing a mild sedative into your cake mixtures to calm down your angrier, more fragile and childish patrons called Phil Brooks."
"The worst MMA fighter of all time recommended this place and to my delight it was great."
Below are some screenshots: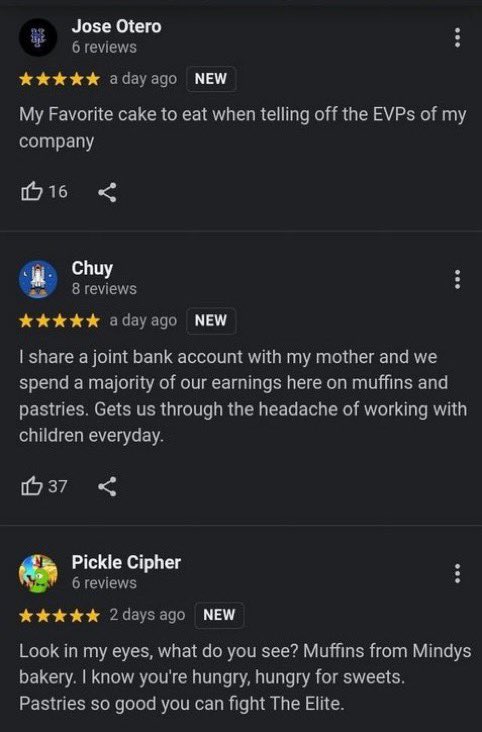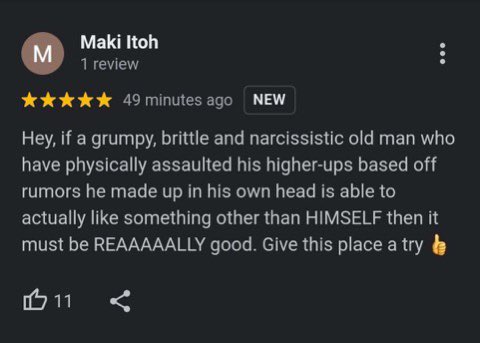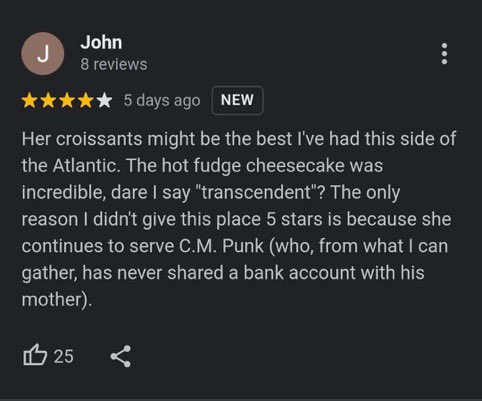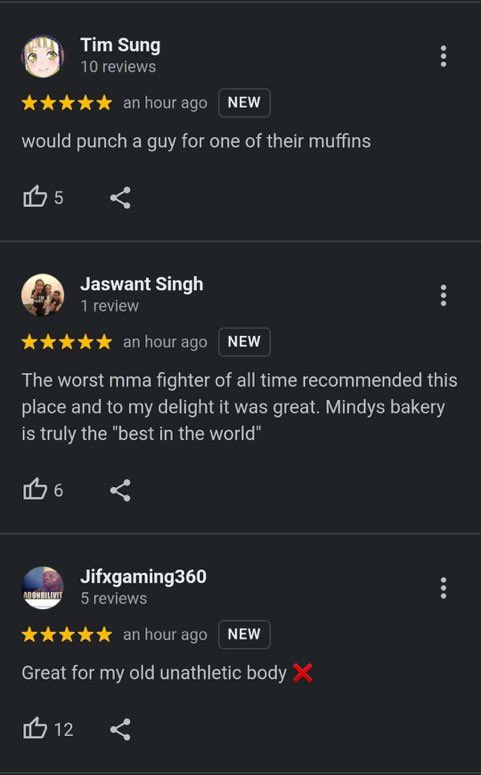 Also Read: CM Punk Planned His All Out Media Scrum Rant Weeks Ago
WATCH: Becky Lynch Shows Off Her Butt (Part 2):
• ON THIS DAY IN WWF HISTORY (September 11, 1993) – WWF Superstars
On this day in 1993, the World Wrestling Federation aired an episode of their weekly TV show 'WWF Superstars of Wrestling'.
This episode was pre-taped at the Westchester County Civic Center in White Plains, New York and featured matches, promos & storyline segments on the road to the 'WWF Survivor Series 1993' PPV.
Here's the card:
– The Headshrinkers vs. Marty Jannetty & Virgil
– IRS vs. Jeff LiBolt
– Tatanka vs. Damien Demento
– Adam Bomb vs. Ron Neal