This is part 3 of our WWE Hall Of Fame 2022 live coverage (part 2 is here).
Vader's son and mother are out next. Debra White says she knows Vader is looking down right now and has a big smile on his face.
Jesse White then thanked the fans for putting food on his plate by supporting his father.
He talked about Vader's accomplishments and said despite all the time his father missed with him due to being on the road, he could never ask for a better father.
He then got emotional and said if there's a Hall Of Fame for Fathers, then Vader was in a long time ago.
Up next is the final induction of the evening. WWE CEO Vince McMahon comes out to induct The Undertaker.
Vince said tonight is his favorite night of the year, because tonight they honor the superstars who have contributed to the success of WWE over the years.
Vince said no Hall Of Fame inductee in the past deserves the induction more than The Undertaker.
Vince said Taker has been to hell and back with all the injuries and the toll his body took in this business.
Vince then said the names of almost ALL of Undertaker's major opponents of his 30-year WWE career!
McMahon recalled Undertaker and Triple H wrestling on the escalator of a mall on WWF Saturday Night Shotgun!
Vince talked about Undertaker's Hall Of Fame qualities – integrity, loyalty, respect, leadership by example, toughness, athleticism, intelligence, discipline & many more.
The greatest quality of Taker is love, because you can't accomplishment what he has without the love he has for the wrestling business.
Vince then introduced The Undertaker and he came out to his Deadman entrance theme.
He hugged Vince and said he loves him and Taker is already emotional. Taker got a HUGE ovation from the fans and "you deserve it", "Rest In Peace" and "Thank You Taker" chants!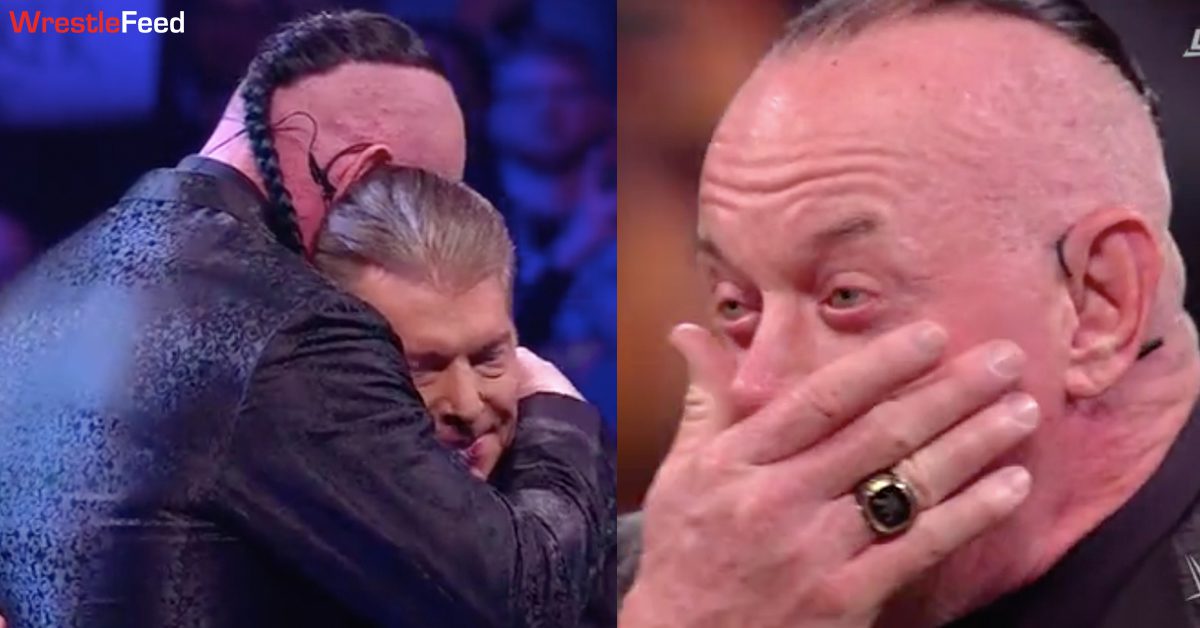 After an emotional scene for 10 minutes straight, Taker finally speaks. Taker said he could've easily died without showing a glimpse of Mark Calaway, but he's going to show the same respect to the fans that fans have showed him for 30 years and he's going to tell about the person below the black hat.
What a moment!

The WWE Universe showers the legendary @undertaker with praise as #ThePhenom takes his rightful place in the #WWEHOF. #ThankYouTaker pic.twitter.com/o62a4PkYDP

— WWE (@WWE) April 2, 2022
His first thank you is to the fans.
Taker said in 1986, he didn't know what to do. He asked his brother what to do. He had some promising opportunities in Basketball, but his heart was in Wrestling.
Taker was afraid of what his basketball teammates and mom & dad would think. Then his brother told him it's all about what he wants in his life. It all became clear and he became a Professional Wrestler.
His dream led him to become The Undertaker.
He has everyone knows about his signature moves, today he's going to tell his mental signature moves.
Taker said Vince told him perception is reality after a match where he roughed up a jobber for messing up moves, and everyone thinks he's an a$$hole after that match.
Taker said he's not proud of his actions from that night and this became his 1st mental move – he constantly reminded himself that his actions matter.
Taker said he has often thought of Stephanie McMahon as a little sister that he never wanted, but is joking and loves the McMahon family.
*Go to the NEXT page to continue reading this article