• Old School WWF Veteran Would Have Celebrated His Birthday
Today would have been the 56th birthday of Old School WWF Veteran Ludvig Borga (Real name: Tony Halme).
He wrestled for the World Wrestling Federation as an upper mid-carder in 1993 & early 1994 and was eventually going to be pushed to be a main eventer, but then got injured and left the company.
Borga's biggest accomplishment during his time in the WWF, was ending Tatanka's 2 year winning streak.
After his Professional Wrestling Career was over, he became an MMA fighter, losing to Randy "The Natural" Couture at 'UFC 13: The Ultimate Force' on May 30, 1997, before becoming a politician and even got elected into the Parliament of his home country Finland.
HAPPY BIRTHDAY & † R.I.P.
(January 6, 1963 – January 8, 2010)
• WWE Hall Of Famer Fires Back At Becky Lynch For Taking A Shot At Him
During a recent edition of "What A Rush" podcast, WWE Hall of Famer Road Warrior Animal talked about Becky Lynch's "The Man" gimmick, women main eventing in WWE & more.
Below are the highlights:
On giving the fans what they want:
"If the McMahons are really listening to the fans and they want to do what they have to do to make the fans happy, you have got to have a line drawn in the sand on who the bad guy is and who the good guy is. That's what the fans want. They want someone to believe in.
They want someone to cheer. They want someone to boo. They want someone to hate. You can't change the wrestling business that's been based for 150 years on this kind of principle. Now all of a sudden you have good guy vs good guy.
Come on, they want to have a line drawn in the sand because when you make it too confusing for them they can't cheer for Asuka in the same way and all of a sudden cheer for Becky Lynch in the same match. You just can't do it and it ends up making the match horrible."
On Women main eventing in WWE:
"There is a problem in the wrestling business. Yes, the women's movement is growing, but when the women are the main event and they have the best matches on your card, there's an issue."
On Becky Lynch's "The Man" gimmick:
"I would let her back off of 'The Man' thing and let her just be a pure white meat babyface that doesn't quit. Those are the kind of babyfaces that work. When you come out there with the attitude and strutting your stuff like she's some kind of tough guy, come on!
Jesus, Lord, anybody that's ever been in a fight can see right through it and I'm just being realistic because that's what works in this business. You've got to think shoot and work the shoot and right now they're not taking advantage of their stars who are stars."
After reading this, below is what former SmackDown Women's Champion Becky Lynch tweeted about this: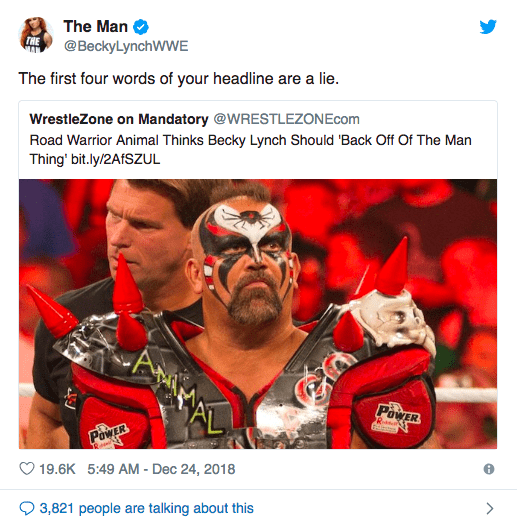 Animal saw Becky's tweet and went on to say the following on his podcast:
"If Becky Lynch is going to try to even have a comeback against a multi-time Hall Of Famer and what I've done in this business – she's won one belt in her life, and that's the WWE belt. Hawk and I won 22 different championships in 22 different companies, come on.
I've wrestled people all over this world, not just in WWE. I'm not putting down Becky, but when you get the kind of stroke that I've had in this business and when you've laid the kind of foundation that I have for her even to have a job today, then you can call someone out. I'm not trying to be derogatory right now, but I'm just trying to be blunt honest.
Basically she just needs to get over herself and realize that this is the entertainment business. People are gonna have an opinion; good bad, indifferent, medium, down the line, whatever and I gave her more compliments than I did negative.
If she just wants to pull out the little negative thing and let the positive things go by the wayside. That's exactly how I feel about it…If someone wants to hang her hat on one little comment, as compared to ten positives, I rest my case. They are thinking about their own ego, rather than the big picture. If I were to be so worried about anything that anyone said about Hawk & I in our day – are you kidding me?
I would have jumped off the fricking Missouri River Highway in St. Louis years ago, if I would have been worried about anything negative anyone ever said about us."
WATCH: Charlotte Flair Grabs Bayley's A$$: