• WWE Hall Of Famer Got A Standing Ovation After A Recent AEW Show
During a recent episode of Eric Bischoff's famous weekly podcast '83 Weeks', the former WCW President talked about being backstage at the AEW Dynamite tapings a few weeks ago, that saw WWE Hall Of Famer Tully Blanchard returning to the ring after almost 14 years, in a 6-man Tag Team match.
Here's what Bischoff said about the backstage reaction to Tully's match:
"It was fun for me as a fan and somebody who appreciates more today than I ever have, the history and the legacy of this industry. When you're a performer and you have that opportunity to get back up there one more time and get that rush which you can't get anywhere else. You can't get it jumping out of an airplane, you can't get it driving a 220 mile per hour car.
You just can't get that kind of feeling that you get when you're performing in the ring. To see Tully in the ring and enjoying that moment, it brought tears to my eyes. Not because I'm close to Tully Blanchard, I could feel what he must've been feeling. That's a gift, that's a gift that Tony Khan and AEW gave to Tully.
I'm getting tears in my eyes thinking about it, not because I have this amazing relationship with Tully but those are moments you don't ever forget and you're always grateful to be a part of. Everybody, the crew, all of the talent, gave Tully a standing ovation. He was like a little kid, it was awesome.
That's the magic, to be able to be backstage and watch Dax and Cash with Tully and the promo that his cut was so real. Real as real could get, you can't fake that sh*t, you can't act that. I don't care if you spent 20 years studying acting, I don't care who you are, you cannot cut a promo like we saw unless you feel it and believe it. That one to me was one of the best promos I've ever seen, it created more emotion than any promo I've ever seen. That's how good it was.
That was a clinic, if you're a performer, if you're a wrestler, an entertainer and you're young, go look for that interview. Go watch Dax and learn from that. He feels so passionately about Tully. We talked to the guys before the match and the respect Dax has for Tully is more than real, it's amazing. Dax said 'I've got a house, I've got a family, I'm doing really well and a lot of it is because of Tully Blanchard.'
That is the level of respect that Dax has for Tully. I understand how it becomes easier to have that real promo. This is where the magic happens, when you're a performer and one is able to internalize the emotion and believe it, don't just memorize words from a piece of paper that don't really mean anything to you.
Ric Flair does it probably better than anybody, he's probably one of the greatest method actors than anybody. He has the unique ability to believe that the moment that he's engaging in is real to him, that's what makes Ric Flair Ric Flair and that's what made Dax's promo so special that night. You believe it."
You can watch Tully's return to the ring in AEW below:
Also Read: Eric Bischoff Buried The Hatchet With An Old School Legend During AEW Appearance
WATCH: Mickie James Kisses Trish Stratus:
You can download our official WrestleFeed mobile app to check out more Wrestling news & Divas content. Tap here to download.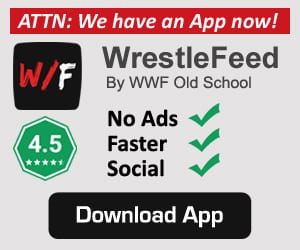 • Old School Wrestling Legend Would Have Celebrated His Birthday
Today would have been the 106th birthday of Old School Wrestling Legend Gorgeous George (Real name: George Wagner).
During the 40s & 50s, the overly flamboyant and charismatic Gorgeous George was far ahead of its time, which is why still to this day, professional wrestlers from all around the world can be seen copying certain elements of the character.
In 2010, he was posthumously inducted into the WWE Hall of Fame by his old friend, The Destroyer (Dick Beyer).
HAPPY BIRTHDAY & R.I.P.
March 24, 1915 – December 26, 1963