• WWE Hall Of Famer Wants Triple H To Have A Retirement Match For Closure
During a recent media call, "The Game" Triple H revealed that AJ Styles wanted to face him at WrestleMania 37, but he turned it down due to his busy schedule.
Here's what HHH said:
"He pestered me with it every time I saw him. He would ask me about it and asked me about my schedule.
I've said it before, getting ready WrestleMania is a different ting, and the older you get, the harder it gets. Doing this once a year, once every couple of years, especially now, is not an easy task.
You try to stay in the best shape you can, but that's not WrestleMania shape, and it's a different thing. So when he very first came to me, I said, 'Man, I'm not going to tell you no. To be honest with you, personally, I'd love to work with you. At this point, you can carry me to something.' I'd love it, and so the personal side of it, the athlete side of it to the performer side of it would love nothing more.
The reality of it is, I am not going to have the bandwidth or the availability schedule-wise to be able to pull that off, and then he would come to me every week or every other week whenever I would see him and say, 'How's that bandwidth coming? You gonna be able to make this happen?' And I would say, 'It's not gonna happen.'
I'm flattered by that. I really am. I'm humbled by it, but I wish I had the bandwidth to do it, and I'm not saying I won't do it in the coming year if it's right and everybody believes that it's what should be done. I'm at a point where to me, the in-ring stuff is bonus."
Triple H's mentor, two-time WWE Hall of Famer Ric Flair, has told the King of Kings to have a retirement match at WrestleMania and get closure:
"It's funny [Ric] Flair calls me all the time to tell me, 'You got to get back in the ring. You got to go to WrestleMania. You have to have that closure. You have to do this, whatever, retirement match.'
There's a part of me that wants to do it, and there's just a part of me, and it's a bigger part right now that goes, man, I am so busy 24/7 that to even try to contemplate even train the way I would want to train and get in shape. And by in shape, I don't mean look, I mean in shape ring-wise so you don't embarrass yourself when you get in there at 52. It's a lot of work.
I'm not afraid of the work. If I could make more hours in the day, I could find time to do it. It's just the time."
Also Read: Triple H Comments On The Undertaker Calling Current WWE Product "Soft"
WATCH: Stephanie McMahon's Buns Exposed By Triple H:
You can download our official WrestleFeed mobile app to check out more Wrestling news & Divas content. Tap here to download.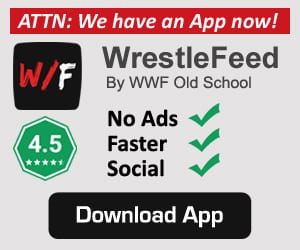 • ON THIS DAY IN WCW HISTORY (April 8, 1996) – WCW PRIME
On this day in 1996, Ted Turner's World Championship Wrestling aired an episode of their weekly TV show 'WCW Prime'.
This episode featured pre-taped matches & segments, building storylines on the road to the upcoming 'WCW Slamboree 1996' PPV.
The show was hosted by Dusty Rhodes & Chris Cruise.
Here's the card:
– Bunkhouse Buck & Dick Slater vs. Bobby Walker & Bart Sawyer
– Ice Train vs. Manny Fernandez
– Johnny B Badd vs. Disco Inferno
– Cobra vs. Lt. James Earl
– Prime Cut "Moo Match" of the Week: Lex Luger & Sting vs. Nasty Boys