Let's take a look at the top WWE News & Professional Wrestling stories of the day:
• Reason Behind Vince McMahon Altering The Names Of SmackDown Live Wrestlers Revealed
As we noted earlier, the names of SmackDown Live wrestlers Luke Harper & Erick Rowan (together known as The Bludgeon Brothers) were shortened to Harper & Rowan respectively.
Wrestling Observer's Dave Meltzer had the following to regarding why Vince McMahon decided to alter their names:
"Harper & Rowan had their first names taken away. Vince believes that just the last name alone makes them come across as more dominant as heels."
• Real Reason Behind NXT Wrestlers Being Called Up To The WWE Main Roster Recently
As we all know, 5 NXT women wrestlers were brought up to the WWE main roster recently (Ruby Riot, Sarah Logan, Liv Morgan, Mandy Rose & Sonya Deville).
There was a lot of speculation behind this move being made in order to do the first ever Women's Royal Rumble match next year, but that isn't the case.
Dave Meltzer of the Wrestling Observer said the following regarding the real reason behind these recent call-ups:
"The reason for all the women call-ups is just that the feeling was with the same seven or eight women on each brand being featured, you've pretty much burned through most of the match-ups and there had become a sameness to the women's divisions (on Raw & SmackDown Live), and this would shake things up."
• Brock Lesnar To Face Old Rival At Royal Rumble 2018?
There are some rumors going on that Universal Champion Brock Lesnar might face WWE Hall of Famer and current Raw General Manager Kurt Angle at Royal Rumble 2018. For those who don't know, Lesnar and Angle had one of the best rivalries during the Ruthless Aggression era and they even main evented WrestleMania 19 in 2003.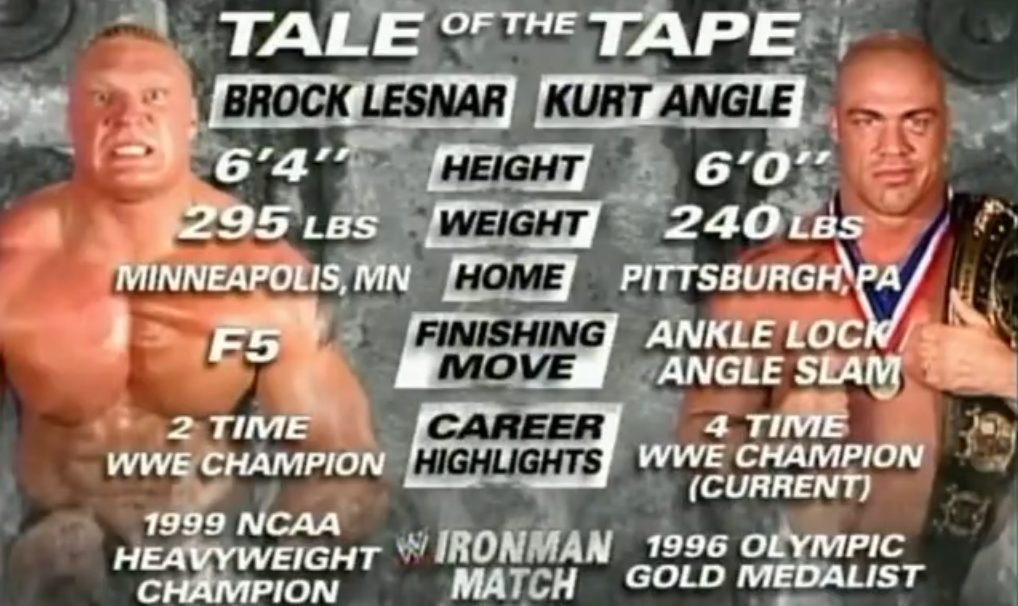 However, reports from a few weeks back stated that Angle was scheduled to face Triple H at Royal Rumble 2018. It should be noted that Angle vs. HHH was originally planned for WrestleMania 34, but reports came out that WWE officials are more interested in doing a match between Triple H & Braun Strowman at WrestleMania 34.
If Angle vs. Lesnar happens at Royal Rumble 2018, then it's safe to say that Angle vs. HHH is being saved for WrestleMania 34 and HHH vs. Strowman might get shifted to Royal Rumble 2018.
We'll keep you updated regarding this. You can watch the WWE Championship Iron Man Match between Kurt Angle and Brock Lesnar from SmackDown below:
• Eddie Guerrero's Daughter Is Now Taking Indy Bookings
Former FCW Women's Champion Shaul Guerrero (who is the daughter of Vickie & Eddie Guerrero and the wife of SmackDown Live wrestler Aiden English) is now taking indy bookings.
My amazingly talented wife is on @Twitter with her new profile – @ShaulLaGuerra – all others are phony!

She inspires me each day 🙂

— Aiden English (@WWEDramaKing) December 1, 2017
Shaul Guerrero available for bookings starting 12/10/17. Manager/Valet, Announcer, Host. Serious Inquiries Only. Gracias y Amor? pic.twitter.com/UyVYNJVhx2

— Shaul Guerrero (@Guerrero_Shaul) December 1, 2017
• Triple H On How The Rock Came Up With The People's Elbow
During an interview on BBC Radio 1, Old School WWF Legend Triple H revealed how "The Great One" The Rock came up with the People's Elbow:
"I can distinctly remember that, in a non-televised match, where we got to the point that, when you're working in the smaller places and you've been on the road for 300 days and you're in this place of 'Let's just make Taker break character tonight.'
And one night Rock did the People's Elbow, but it wasn't known as the 'People's Elbow' then.
It was known as: 'Watch this move that's going to make all of you lose it in your corners.'
And then it got to the point where it would happen at a couple of events and there was a night where, I think we were all working a tag match on TV, and Mick Foley said: 'I dare you to do that elbow tonight.'
These things morph in those ways that they just catch on and, trust me, we're quick to go: 'Oh they like that. I'm sticking with that.'
You've gotta wait for like 20 minutes while he takes his elbow pad off and works the crowd. He runs back and forth, then he comes up and drops an elbow on you that looks like it barely touches you, except that a lot of times the point of his elbow hits you right in the mouth and you come up bleeding and you're like, 'How can you bust me open on that?' It's also so funny that you're running away to the bank with it."
• WWF Veteran Talks About Raw Star's Insane Popularity, Says He's The Real Deal
During a recent edition of "The Taz Show" podcast, WWF Veteran Taz talked about why current Intercontinental Champion Roman Reigns is being pushed as the new "Face of WWE".
Below is what he said:
"Roman Reigns came out proudly as the new Intercontinental Champion. He slung it across his shoulder like so many people hate that he does and obviously he's doing that just to get the attention of folks. And the WWE knows that it's a trigger point and it pi$$es people off and it looks like he's being disrespectful.
To the fact of that they take a picture of homeboy with the title and put it on Instagram on WWE's Instagram and Michael Cole said it on the show, it got over like close to five hundred ninety thousand likes.
I mean that's insane. It really is. They're pushing the popularity of him and all that stuff and and in the photo he's got the belt across the back which I thought was kind of funny.
But my point in bringing up Roman Reigns, it's not just because he kicked off the Raw deal. It's because so many people feel like they don't like him, listen man it is insane, close to 600,000 likes on Instagram. That is just nuts. The point is how popular is this guy.
Are you kidding me? That's just insane popularity. That's insane star power. Like I've been saying my man is over, no matter what people may think of him and what internet fans think of him. It don't matter. He is over like Rover and that's why he gets pushed and that's why they invest money in him and that's why he's becoming rapidly, if not already, the hood ornament of the WWE.
He is the future. He's the current. He's all these other adjectives. And if you don't think he is, you're delusional. You're missing it. I mean because it's right in front of your face.
So please don't think Roman Reigns is not over and please don't think he is not popular and please don't think he's not making money and please don't think that he's not drawing big money for the company because all of these things are happening.
He checks all the boxes guys and he gets it done right. My point is this guy is over. It's not just because he got all those likes on Instagram. Well that's part of it. I mean it really is. I mean that's pretty damn impressive. I mean for them to go on TV and push it shows you how impressive that was.
What I've been saying about him is a shoot that he's the real deal. And that's why they keep pushing him because he is the real deal."
• Old School Wrestling Legend Would Have Celebrated His Birthday
Today would have been the 84th birthday of Old School Wrestling Legend Gypsy Joe (Real name: Gilberto Meléndez).
If you have never heard of this man before, then we strongly suggest, you look him up online, because Gypsy Joe holds the world record for the longest Professional Wrestling career in history, after performing in the ring for 60 (!!!) years from 1951 until he retired in 2011.
HAPPY BIRTHDAY & R.I.P.
December 2, 1933 – June 15, 2016
• Old School WWF Veteran Celebrates His Birthday
Old School WWF New Generation Era Superstar Hakushi (Real name: Kensuke Shinzaki) turns 51 today.
He first started as a heel on WWF TV towards the end of 1994, accompanied by his manager Shinja (former Orient Express member Akio Sato), but would turn babyface around mid-1995 and continue to wrestle until going back to Japan in early 1996.
Hakushi is considered a Puroresu Legend in Japan, where he wrestled under the name Jinsei Shinzaki and is still doing so in 2017.
HAPPY BIRTHDAY HAKUSHI!
• 5 Things You Didn't Know About Alexa Bliss
Below is a video that WWE posted about Raw Women's Champion Alexa Bliss which is titled "5 things you didn't know about Alexa Bliss":
Below are the 5 things that WWE listed in the video:
1. Alexa Bliss was an accomplished bodybuilder before joining WWE.
2. She was a competitive cheerleader.
3. She had a completely different look in NXT in the beginning.
4. She changed her look at NXT TakeOver: Unstoppable in 2015.
5. She was a part of Triple H's WrestleMania 30 entrance.
• Impact Wrestling Turning Babyface In The Eye Of The Public?
As seen on this week's Raw, Matt Hardy teased the debut of his BROKEN gimmick after losing to Bray Wyatt.
Word going on is that WWE will be slightly altering Hardy's gimmick and it's expected to be called WOKEN instead of BROKEN. However, the actual gimmick is expected to be very similar.
Impact Wrestling's Ed Nordholm issued the following statement to Sports Illustrated regarding this:
"We have seen the character development and will be interested to see where they take the concept. Our new talent agreements all incorporate language that allow talent to continue to use their IMPACT persona after they leave the company.
We are working with our legal team to amend our existing agreements to extend this to all of our current and former talent."
Wrestling Observer's Dave Meltzer & Bryan Alvarez discussed this and below are the highlights:
Meltzer: Something happened as far as the legal action went and I guess it didn't look good for Impact. So it's kind of like a face-saving gesture.
They announced today that all wrestlers, not just Matt Hardy and Jeff Hardy, but all wrestlers, they are going to allow to use all their intellectual property after they leave, even the ones that they created themselves.
So Ethan Carter III as an example, whose contract is up pretty soon, he can go and be Ethan Carter III. Normally that would never happen in any television show. It's so unlike the television business.
But they're doing it as a way to be, I don't know, babyfaces to the public because they certainly got very unfairly maligned in some ways on this Matt Hardy thing because it's not like any other company in the same situation wouldn't have done exactly what they did and God knows Vince McMahon has over and over again.
And I grant the situations were unique with the Hardys because they did finance TV shows and things like that and it really was their idea, but hell they're guys who came to Vince McMahon with ideas. He used them. They can't use it when they leave. It's how it is. Cody Rhodes can't even use the name Rhodes. How ridiculous that is!
So because of whatever it was, obviously TNA was a complete mess at the end and there were probably certain breaches and things like that and it looked bad and so that's what they did…. so they're not going to be 'Broken', they're gonna be 'Woken'. So Vince can own it…not them…even though it's their idea.
Alvarez: That's fine because if they leave they can be 'Broken'.
Meltzer: Absolutely! They can take that gimmick with them.
Alvarez: So we should be happy they're 'Woken'.
Meltzer: Yeah, I'd say so. It's fine. They can do it which believe me Matt needed it bad because he was going down the hill.
• The Rock Reveals A Cool Story Between Him & Hulk Hogan
During a Twitter conversation with Muscle & Fitness, Old School WWF Legend The Rock revealed a cool story between him and "The Immortal" Hulk Hogan:
.@therock, was this the moment you caught @hulkhogan's headband?

(From WWF at MSG Madison Square Garden (2-20-84)) pic.twitter.com/l9fCwg3s75

— Muscle & Fitness (@muscle_fitness) December 1, 2017
Wow this was the match back in '84 when I caught this @HulkHogan headband he throws. I was 12yrs old at Madison Square Garden. I went back to the locker room after the match to give it back to him. Two weeks later he gave me a brand new one. Crazy story. ???? https://t.co/0UX0I68Wm4

— Dwayne Johnson (@TheRock) December 1, 2017
• Trailer For Andre the Giant's "He Was A God" Documentary
Below is the trailer for WWE Studios' Andre the Giant "He Was A God" documentary:
• Flashback: The Undertaker Says Fans Who Think They're Experts Are A Big Joke
Below are the highlights from a shoot interview that The Undertaker did back in 2003:
On Being The Locker Room Leader:
Undertaker: It was nothing like I would politic for…. or I said "Okay, I'm gonna be this locker room leader guy". It's gonna happen through the course of time. I think our guys respect the fact that well first, I've been here for 13 years.
For most of those 13 years I've been on top and I think they all know that they can trust me. They trust me to give them the right advice and to help them do what's right for our industry and they know that I put our business first and foremost above anything else within our industry ….you know… what's the best for the product and that goes inside and outside of the ring and how guys carry themselves and how they act and deal with our fans and the effort that they put forth while they're in the arena.
Host: You're one of the last, I guess with Hulk Hogan coming back last year, you're one of the last guys to kind of really bring the links to the Old School and the New School.
I mean you've kind of seen it all and you are kind of the guy that a lot of guys point you as being the man that carried the torch during the lean years as well.
Undertaker: Yeah. Guys such as myself and Bret Hart and all those guys that stayed during the lean years…. and I'll tell first and foremost – I'm Old School, but I appreciate where our business is going and where it's growing.
And it's up to me to stay up with the times, but also still have those Old School values and realize that some of the Old School ways still work. They just have to be applied to our current product.
On The State Of The Wrestling Business (in 2003):
Host: What do you like about the state of the industry right now?
Undertaker: I think first and foremost is the effort in which our guys perform…Off the chart! These guys take so much pride and they put so much effort in what they do.
A lot of our guys, they really don't know what they're doing yet, but boy they try hard and they work hard and to me that'll cover for their lack of knowledge or their lack of understanding or psychology. They're going out there, they're busting their butt to do the best that they can do and you just can't ask any more of that.
A lot of these guys didn't have the privilege of coming up to the smaller territories like I did. That's where you learned your craft, that's where you learned how to deal with certain different situations.
These guys were right out of wrestling camp, most of them, and thrown right into the limelight in our product which was at its peak. I mean, they came in and they're working in front of sold-out houses.
It's gonna be a test. Our business takes peaks and valleys just like any other entertainment in sports. To be in Sports Entertainment, I guess that's going to doubly affect us.
Host: Is it in the valley right now?
Undertaker: I don't know that it's in a valley, but it's not where it was 4 years ago.
I think a lot of it has to do with just the economy in general. As the economy goes and comes down, I think our business too. I mean when there's more money out, extra money for people to spend…you know. It's always been that way as long as I've been in the business.
That's probably the biggest key. I don't think it's the product. I mean we have some of the finest riders and like I said our athletes, they're the best in the world. It's not from a lack of effort. I just think there's a lot of outside situations that kind of contribute to this.
I usually base everything on the performance end of it and I think our guys are more… they're more concerned in their performance of trying to do these outlandish stunts and it's very exciting.
You can't argue that, but a lot of it is awful reckless and they're laying their lives and their health on the line to entertain the people which you have to respect, but it's not very good resource management because it's only a matter of time before those kind of things catch up with you.
I'm not saying that at a WrestleMania or that…. hey, you lay it on the line man because that's the biggest thing we have, that's our Super Bowl, that's our World Series, that's our Stanley Cup.
So that's where you lay it out on the line, but a lot of these guys, the fact that they don't know proper psychology. They try to substitute high risk and I think that's a fault because a lot of our guys unfortunately listen to the people on the internet…who are the so-called experts who've never laced up…
On The Internet Fans Who Think They're Experts:
Undertaker: It's fine. There are some really good fan based sites that are good. They're fans that enjoy wrestling. The ones that call themselves experts and have all these cures for the ailments of our business, you know what I think? They're a big joke.
They're only smart because of what we let them be smart to, but you listen to them and they've got all the answers and this guy needs to be pushed and this guy needs to go, Undertaker needed to retire two years ago.
I kind of think it's funny they forgot that they are fans and that's all they are, our fans. And I'm not downplaying the role of our fans because that's what we're all about.