• WWE Officials Discussing An Interesting Match For Goldberg At WrestleMania 37 (Exclusive)
In the opening match of last night's Royal Rumble 2021 main show, WWE Hall of Famer Goldberg lost to Drew McIntyre in a WWE Championship match.
Goldberg is on a two match per year deal with WWE until 2022, which means he has one more match to go in 2021.
WWE Officials want to stack the WrestleMania 37 match-card with big names because it will be a two night event and will also have fans live in attendance, so they want Goldberg in action at the Show of Shows.
Since Goldberg lost his last two matches (to Braun Strowman at WrestleMania 36 – Night 1 and to Drew McIntyre at Royal Rumble 2021), WWE wants to give him a win to keep him strong for other top names (especially Roman Reigns) that he will put over next year.
Since WWE doesn't want Goldberg to defeat any main eventers anymore, there is an interesting match being discussed for him at WrestleMania 37.
WWFOldSchool.com has been told that there have been discussions about doing Goldberg vs. Riddle at WrestleMania 37.
RAW wrestler Riddle has been bad-mouthing the WWE Hall of Famer for a couple of years now and this feud would definitely be interesting to watch on TV.
Since Goldberg's feud with McIntyre was about "respect", the Goldberg vs. Riddle match would be fitting at this point.
Also, many people in WWE believe that Riddle was given the "okay" from top WWE executives to go ahead with the insults towards Goldberg, and Goldberg reportedly is "in" with this "long term feud" as well.
We'll keep you updated regarding this.
Also Read: "You really need to stop crying about it. It's embarrassing" – Riddle To Goldberg Before Royal Rumble 2021
WATCH: Trish Stratus Exposed On RAW:
You can download our official WrestleFeed mobile app to check out more Wrestling news & Divas content. Tap here to download.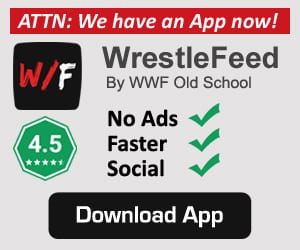 • Old School Wrestling Veteran Would Have Celebrated His Birthday
Today would have been the 79th birthday of Old School Wrestling Veteran "Mr." Masa Saito (Real name: Masanori Saito).
Mr. Saito won the World Wrestling Federation Tag Team titles on two occasions with his Tag Partner, the late great Mr. Fuji.
He had successful runs in a lot of different promotions over the years, but his biggest claim to fame is probably the infamous McDonalds incident, where he and Ken Patera got arrested in 1984.
Saito became the AWA World Heavyweight Champion in 1990 by defeating Larry Zbyszko, but lost it back to him a few weeks later at SuperClash 4.
He passed away on July 14, 2018 at the age of 76 due to complications of Parkinson's disease.
HAPPY BIRTHDAY & † REST IN PEACE
February 1, 1942 – July 14, 2018