• WWE Pulled Charlotte Flair From WrestleMania 37 Storyline Because They Thought She Was Pregnant
Former WWE wrestler Andrade did an interview with Lucha Libre Online on Monday.
Since this interview was in Spanish, some things were lost in translation.
Andrade noted during the interview that WWE pulled Charlotte Flair from her WrestleMania 37 storyline because they thought she was pregnant (this was before Charlotte tested positive for COVID-19).
Charlotte's team then issued the following statement to clear things up:
"What Manny said about the pregnancy test in today's interview is true, but a significant amount of context is lost in translation and we'd like to clear that up as best we can.
A few weeks ago, Charlotte received a call from WWE medical telling her that her HCG levels had come back high and she was being medically suspended for pregnancy.
That day, she took several home tests that all came back negative. A few days later, blood work and ultrasound confirmed there was no pregnancy. This was before any issues with Covid (she is currently medically clear).
This put a lot in context for her, mainly how small a woman's career window is. The men are able to work well into their 50s while the women are seen as "older" in their early 30s even. For an athlete in her prime, these years mean everything.
Her issue was with the process and how the information was relayed as opposed to the information itself."
Also Read: Andrade Clarifies His Comments About Brock Lesnar & Asuka
WATCH: Charlotte Flair's Revealing Photos:
You can download our official WrestleFeed mobile app to check out more Wrestling news & Divas content. Tap here to download.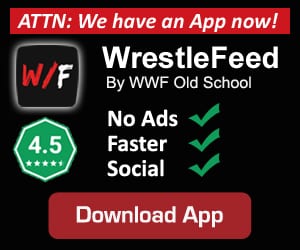 • Old School Wrestling Legend Celebrates His Birthday
Old School Wrestling Legend "Rugged" Ronnie Garvin (Real name: Roger Barnes) turns 76 today.
Garvin wrestled during the 60s, 70s, 80s & early 90s, and worked for several territories / promotions during his career, such as Jim Crockett Promotions, International Championship Wrestling , Georgia Championship Wrestling, Championship Wrestling from Florida, the American Wrestling Association, Smoky Mountain Wrestling and the World Wrestling Federation.
By far Garvin's biggest accomplishment was winning the NWA World Heavyweight Championship from "The Nature Boy" Ric Flair on September 25, 1987.
Ron is the stepfather of Fabulous Freebirds member "Gorgeous" Jimmy "Jam" Garvin, but was not related to his kayfabe/storyline brother Terry Garvin.
He has yet to be inducted into the WWE Hall of Fame, which many experts do believe will happen eventually.
HAPPY BIRTHDAY RONNIE GARVIN!