• Jeff Jarrett Comments On Working With Owen Hart
During a recent interview The Times-Picayune, WWE Hall of Fame Class of 2018 inductee Jeff Jarrett talked about his health, Global Force Wrestling, working with Owen Hart & more.
Below are the highlights:
On his health:
"It is, without a shadow of a doubt, the best I've been in years. Feel great. And not just physically. Mentally and emotionally and spiritually as well. I'm really excited about the next chapter of my career."
On his wrestling promotion Global Force Wrestling:
"I'm working on some international projects as we speak. The international wrestling scene has so much growth opportunity – Asia, South America, Africa, Europe, all around the world."
On working with Owen Hart:
"Everybody has a funny story or a recounting of a rib, but the thing that I want people to never forget about is the kind of human being he was. The integrity. He was an incredible father and husband. Co-worker. Peer. He could put a smile on your face and he absolutely could go toe-to-toe with anybody in the industry. We had a kinship. We were both second-generation wrestlers. The respect I've got for that guy and just what he stood for, that's what I like people to remember and that's what I like to talk about when we talk about Owen's legacy."
On Monday Night Wars:
"What a great time to be not only in the business, but as a fan. You had wrestling four nights a week and then the monthly pay-per-views. It went to 12 a year for each organization. All the talent and the stars that were created in the 90s, it was truly a remarkable time. This was before social media. It was a real unique time where cable television dominated the landscape."
• WWE's Way Of Promoting The Undertaker vs. John Cena For WrestleMania 34 Revealed
WWE is promoting The Undertaker vs. John Cena match at WrestleMania 34 with the following poster in New Orleans: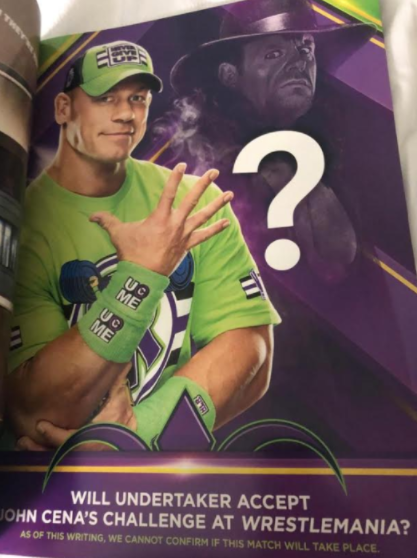 The poster reads:
"Will Undertaker accept John Cena's challenge at WrestleMania?
As of this writing, we cannot confirm if this match will take place."
For those who are still in doubt, The Undertaker vs. John Cena WILL take place at WrestleMania 34 (we have said this so many times now for the past 4 months).