• WWF Legend Says He'll Never Leave AEW, Was Only Offered A 10 Week Contract At First
During a recent interview with Brandon F. Walker, Old School WWF Legend Jake "The Snake" Roberts said that he will never leave All Elite Wrestling, where he's currently managing TNA/NJPW Veteran Lance Archer.
Roberts went as far as saying that he would even work for Tony Khan's promotion without getting paid, if he had to.
Here's what the 2014 WWE Hall of Famer said:
"I'm gonna listen to the opportunities, but I am not gonna walk out on AEW. I don't care what is offered to me. This is where I want to be.
If Tony [Khan] came to me and said, 'Jake, we gotta save some money. You know, sorry.' I'll say, 'Well do you mind if I just show up on my own?' Because that's why I would do it. Tony, please don't do that to me though.
I've seen this as an opportunity to regain and recover my dream, and that was just doing whatever I could in wrestling and they opened the door just a little bit and I came to AEW with a contract that said 10 weeks, only 10 weeks then I was gonna be done and very quickly, they decided they wanted to keep me around."
WATCH: Alexa Bliss' Buns Exposed:
You can download our official WrestleFeed mobile app to check out more Wrestling news & Divas content. Tap here to download.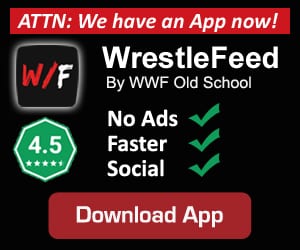 • Old School ECW Diva Celebrates Her Birthday
Old School ECW Diva Beulah McGillicutty (Real name: Trisa Laughlin) celebrates her 52nd birthday today.
Beulah worked as a valet but also occasionally wrestled for Paul Heyman's Extreme Championship Wrestling from 1995 to 1998.
In 2002, she married Old School ECW Legend Tommy Dreamer and they have 2 twin daughters together.
The last time we saw her, was in the Intergender 6 person tag team match at the ECW (WWE) One Night Stand 2006 PPV, teaming with her husband & Terry Funk against Lita, Mick Foley & Edge.
HAPPY BIRTHDAY BEULAH!