• WWF Officials Considered Burning USA Flag At The Royal Rumble
On a recent episode of his successful 'Something To Wrestle With' podcast, "Brother Love" Bruce Prichard revealed that while Vince McMahon did not plan to have WWF World Heavyweight Champion Sgt. Slaughter burn a USA Flag on an episode of WWF The Main Event, a similar angle was booked for the Royal Rumble PPV.
Keep in mind that Sgt. Slaughter has since told the story that he refused to do it, saying he would get assassinated for it afterwards, and instead ended up burning a Hulk Hogan 'Hulkamania' T-Shirt.
Here's what Bruce Prichard said:
"To do it on this NBC special is 100% false. There was discussion to do it at Royal Rumble, there was never discussion or there was no plan at all to do it on NBC in any way shape or form. That's just made up horse sh*t that people reading the dirt rags and the made up bullsh*t.
There was a lot of discussion about doing it because it was legal and it was Jesse Ventura who came to us with the idea. It had made the news of people burning the flag in protest, this is something that Slaughter could do to get heat.
Obviously, better judgment prevailed and it was decided it's not the kind of heat we want regardless of whether it's legal or not, regardless whether it's accepted. The one time we considered doing it was at the Royal Rumble."
WATCH: Brooke Hogan's (Hulk Hogan's Daughter) Private Photos Leaked:
You can download our official WrestleFeed mobile app to check out more Wrestling news & Divas content. Tap here to download.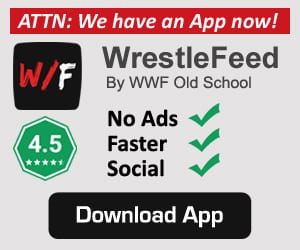 • ON THIS DAY IN NWA HISTORY (March 8, 1986) – NWA Mid-Atlantic Championship Wrestling
On this day in 1986, Jim Crockett Promotions aired an episode of their weekly TV show 'NWA Mid-Atlantic Championship Wrestling'.
This episode featured pre-taped matches, interviews & storyline segments featuring the 1986 NWA Wrestling Superstars.
The card for the show was:
– Jimmy Garvin vs. Rocky King
– Interview: Ivan/Nikita Koloff
– Interview: Magnum TA
– Clips of Tully Blanchard vs. Dusty Rhodes National Title change
– Midnight Express vs. George South/Rocky Kernodle (finish cut off)
– Pistol Pez Whatley vs. Mike Simani
– Jimmy Valiant vs. Gene Ligon