• WWF Veteran Says Vince McMahon Never Had Time For Him (Exclusive)
A few days ago, Old School WWF/WCW Veteran Adam Bomb (aka Wrath aka Bryan Clark) did a Q&A under one of his posts in our official WWF Old School Facebook Group, in which quite a few Old School WWF Veterans are active members, such as Bushwhacker Luke, Barry Horowitz, Duke "The Dumpster" Droese, Alex "The Pug" Porteau, "The Mountie" Jacques Rougeau, Quebecer Pierre and many more.
Here are some of the highlights from this Q&A session.
Question: "Welcome Bryan! Discovered you in WCW as Wrath and I loved Kronik. Who would you consider the brute strongest opponent you ever competed against? And who would be your dream match be against? (Living or dead, retired, etc)"
Adam Bomb: "Meng/Haku.. we had some wars !! Stan Hansen (my fav of all time)"
Question: "Which promotion did you prefer as a wrestler back in the day? WWF or WCW? Which locker room was more fun to be in?"
Adam Bomb: "I really enjoyed working for Eric [Bischoff], if I had an issue or problem, he always had time for me…Vince [McMahon] was just the opposite!"
Question: "What was it like working with big man legends like Yokozuna and Taker?"
Adam Bomb: "I enjoyed most of them..they had real slow characters at the time.. so I felt like I was going non stop, lol"
Question: "Who was your favorite person to wrestle or who you think you had your best matches with during your years in the WWF?"
Adam Bomb: "Some many, we were working 280 plus days a year! Bret, Taker in Europe, PCO, Billy Gunn, Yoko"
Question: "If you could have a dream match who would you face out of the modern day giants?"
Adam Bomb: "Drew [McIntyre]."
Question: "All seriousness, I've always read about what a great guy Brian Adams was backstage. What's your favourite memory of Brian?"
Adam Bomb: "I have so many memories of Brian, I could go for days, l loved him like the brother I never had, he was a great person.. he is the only person who could make me laugh so hard I was crying and could not breath.. I had to make him pull the car over so I could catch my breath!!!! What a funny, crazy, awesome brother..always had my back and I had his 24-7!!"
WATCH: Sables's Most Revealing Moment In WWF:
You can download our official WrestleFeed mobile app to check out more Wrestling news & Divas content. Tap here to download.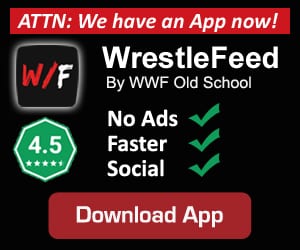 • OLD SCHOOL VIDEO HISTORY (March 11, 1991) – UWF Fury Hour
On this day in 1991, Herb Abrams´ Universal Wrestling Federation aired an episode of their weekly TV show 'UWF Fury Hour'.
This episode was pre-taped on February 15th, 1991 at the Penta Hotel in New York City, New York.
Herb Abrams & Bruno Sammartino were doing commentary for the show.
The card can be found below:
Don Muraco vs. Captain Badd
Lumberjack Match: Paul Orndorff vs. Steve Williams
Ask the Wrestlers feat. John Tolos
Brian Blair vs. The Beast
Capt. Lou's Corner w/Wet N' Wild
The Power Twins vs. Chris Michaels & Tom Brandi