• WWF Veteran Was Originally Offered Stone Cold Steve Austin's 1st WWF Gimmick
During a recent interview on an episode of 'The 90s Wrestling podcast', Old School WWF Veteran Adam Bomb (Real name: Bryan Clark) revealed that he was originally offered the gimmick of 'The Ringmaster' in the spring of 1993, more than 2 years before Steve Austin actually made his World Wrestling Federation debut as the character.
Austin dropped the gimmick after a little more than a month, and the rest is history, as he became 'Stone Cold' Steve Austin, who went on to become the biggest short-term draw in professional wrestling history.
Bryan Clark on the other hand had decided against the gimmick in 1993 and became Adam Bomb, but had already left the promotion a few months before Austin arrived.
Here's what Adam Bomb said on the podcast:
"They would create characters and pitch them to Vince and he would say 'yay or nay' and he said 'yay' to that.
So they call me up and they said they had two things for me. You'll love this. This is the honest to god truth.
They said 'we've got two things for you and you can pick. You've got Adam Bomb or you can be The Ringmaster.
I was like, 'well I'm not a Ringmaster, least not yet,' so I went with Adam Bomb.
But they used Ringmaster, they had trademarked that name, and they used that and gave it to Steve Austin later. That's how long it had been in the archives.
That's absolutely the true story."
Also Read: Adam Bomb Says Vince McMahon Never Had Time For Him (Exclusive)
WATCH: WWF Diva Debra (Stone Cold Steve Austin's Ex-Wife) Stripped:
You can download our official WrestleFeed mobile app to check out more Wrestling news & Divas content. Tap here to download.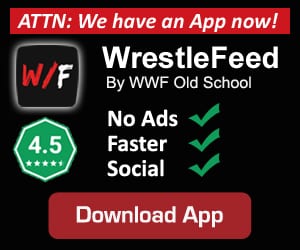 • Old School WrestleMania Celebrity Would Have Celebrated Her Birthday
Today would have been the 79th birthday of Old School WWF WrestleMania Celebrity "The Queen of Soul" Aretha Franklin.
At WrestleMania III on March 29, 1987, she sang "America the Beautiful" in front of a LIVE audience of 93,173 people in the Pontiac Silverdome and millions watching at home.
20 years later, Vince McMahon brought her back to do it one more time at WrestleMania 23, where she ended up singing the song in front of 80,103 people at Ford Field in Detroit, Michigan.
† REST IN PEACE ARETHA FRANKLIN
March 25, 1942 – August 16, 2018