• "You and I will never work together. Ever." – Brock Lesnar To Riddle 1 Year Ago Today
Royal Rumble 2020 pay-per-view took place 1 year ago today.
ProWrestlingSheet reported that Brock Lesnar and Riddle were involved in a backstage confrontation at this event:
"Details are scarce at this time, but sources tell us Lesnar and Riddle passed each other while walking backstage and a tense encounter ensued.
One source says Brock saw Matt and wanted him to know the reality of the situation between them."
Fightful then noted that Lesnar just wanted to tell Riddle that "he's not the one to f**k with":
"One person noted that Lesnar was the 'wrong one to f**k with,' and that Lesnar simply communicated his issues, saying 'he was spoken to by Brock and he understood'."
For those who don't know, Riddle has said in multiple interviews that he wants to retire Lesnar.
talkSPORT later revealed what Lesnar said to Riddle backstage at Royal Rumble 2020:
"According to a WWE official, Lesnar is said to have approached Riddle backstage and grabbed his shoulder to get his attention.
Then, Lesnar said: 'Kid, you might as well stop saying my name and tagging me in sh*t because you and I will never work together. Ever.'"
ALSO CHECK OUT: Drew McIntyre Paid Tribute To Kobe Bryant After Winning The Royal Rumble Match 1 Year Ago Today (Video)
WATCH: Sables's (Brock Lesnar's Wife) Most Revealing Moment In WWF:
You can download our official WrestleFeed mobile app to check out more Wrestling news & Divas content. Tap here to download.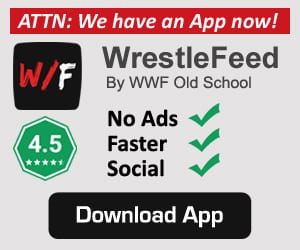 • Old School Wrestling Legend Would Celebrate His Birthday
Today would have been the 92nd birthday of legendary Old School Wrestling announcer Gordon Solie (Real name: Francis Labiak).
Solie was famous for doing commentary for various NWA territories like Georgia Championship Wrestling, Championship Wrestling from Florida, USA Championship Wrestling, … among a few others, before ultimately staying with Ted Turner's World Championship Wrestling during the 90s.
He's widely considered one of the greatest play-by-play announcers in professional wrestling history.
HAPPY BIRTHDAY & † REST IN PEACE!
January 26, 1929 – July 27, 2000