• "You guys screwed me" – Brock Lesnar On His WrestleMania XX Salary
On an episode of his "Grillin' JR" podcast, WWE Hall Of Famer Jim Ross discussed the infamous Brock Lesnar vs. Goldberg match from the WrestleMania XX PPV.
Before the pay-per-view, there were several reports that both wrestlers will leave WWE after their match, which led to fans eventually booing them out of Madison Square Garden, which obviously ruined an otherwise average powerhouse-battle completely.
Neither wrestler put too much effort into the match, but it was still far from being anywhere near as bad as the Internet Wrestling Community claims it to be.
Here's what Good Ol' J.R. said on the podcast:
"I think the payoff that we did for WrestleMania XX, I think Brock made $250,000 and so did Goldberg. I remember sitting in my office in Stanford and Vince's assistant said, 'Brock Lesnar is on the line. He wanted to talk to Vince and Vince wants him to talk to you.' That was my prep for that conversation, here he is. I get on the phone with him and he's in a foul mood and thought he got screwed.
I said, 'What are you basing this on? Did you do a forensic study on the finances of this event, or did one of your buddies tell you that you got screwed on your payoff? What are you basing this on? You've got to give me something here. You didn't like it?' And he said, 'I just think you guys screwed me.' I said, 'well, we didn't screw you, and I'm sorry you feel that way.' And he hung up on me.
Look, I didn't have a problem with him hanging up on me. He heard his answer, 'You are not getting any more money. We think we paid you fairly.' But it was not the phone call. I was thinking, thank god he was on the phone and not staring me down the gullet. He is a little intimidating. So, that's how that worked out. We were really shocked that it had come to that.
They're gone. We had spent a lot of money in both guys. Not only in contractual money, guaranteed money but time and more money on promoting them, establishing their brands respectively.
There was a lot of tension in that regard because nobody really knew the unknown of how this match is really going to progress. Is it going to be good? Are these guys going to be the athletes they are and even though they don't like the plays that are being run, are they still going to take the field and play their a$$ off?
Upon the entrances, I knew that we all had an uphill struggle. The crowd didn't like either one of them and that's the sh*ts, that's bad man. If you like one of them, but you didn't like the other guy, you can deal with that. But you don't like either guy? The fans thought they were being deserted and the talent turned their backs on them and they reacted accordingly.
It was a tense day, most people stayed away from both guys. What are you going to do? There's nothing to say here. Leave them alone, let them do their thing and hope that Austin can save the damn day."
WATCH: Sable Gets Stripped Unforgiven 1998:
🔥
You can download our official WrestleFeed mobile app to check out more Wrestling news & Divas content. Tap here to download.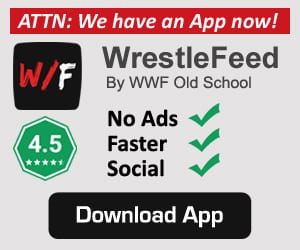 • ON THIS DAY IN WCW HISTORY (March 14, 1998) – WCW Saturday Night
On this day in 1998, Ted Turner's World Championship Wrestling aired an episode of their weekly TV show 'WCW Saturday Night'.
This episode was pre-taped at the Cambria County Civic Center in Johnstown, Pennsylvania and featured matches, interviews & storyline segments on the road to the 'WCW Uncensored 1998' PPV.
The card of the show can be found here:
– Glacier vs. Chris Adams
– Villano IV, V & Silver King vs. Ciclope, Super Calo & Juventud Guerrera
– Bill Goldberg vs. Chase Tatum
– High Voltage vs. Disorderly Conduct
– Ernest Miller vs. Psychosis
– Raven & Saturn vs. Mike Enos & Wayne Bloom
– La Parka vs. Lenny Lane
– Dean Malenko & Chris Benoit vs. Chris Jericho & Chavo Guerrero Jr.
– Rick Steiner vs. Vincent
– Bryan Adams & Curt Hennig vs. British Bulldog & Jim Neidhart