• OLD SCHOOL HISTORY (June 30, 1991) – WWF Wrestling Challenge
On this day in 1991, the World Wrestling Federation aired an episode of their weekly TV show 'WWF Wrestling Challenge'.
This episode was pre-taped at the Wells Fargo Arena in Tempe, Arizona and featured matches, promos & storyline segments on the road to the 'WWF SummerSlam 1991' PPV.
Here's the card:
– The Nasty Boys vs. Bobby Jones & Steve Gatorwolf
– Greg The Hammer Valentine vs. The Intruder
– The Undertaker vs. Terry Zeller
– Jake The Snake Roberts vs. Bill Luger
– The Barber Shop with IRS
– The Beverly Brothers vs. Bill Gatlin & Stephen DeLeon
– The British Bulldog vs. The Black Demon
– Col. Mustafa vs. Jerry Stevens
• You Will Miss Kelly Kelly In WWE After Watching This Video!
Kelly Kelly (a.k.a Barbie Blank) signed with WWE back in 2006, when she was 19 years old. She started on WWE's ECW brand.
She was the youngest diva on the roster and her gimmick was that of an 'exhibitionist', who performed striptease for the crowd.
Kelly Kelly became one of the most popular Divas in WWE during the late-Ruthless Aggression / early-PG era and went on to capture the WWE Divas Championship as well.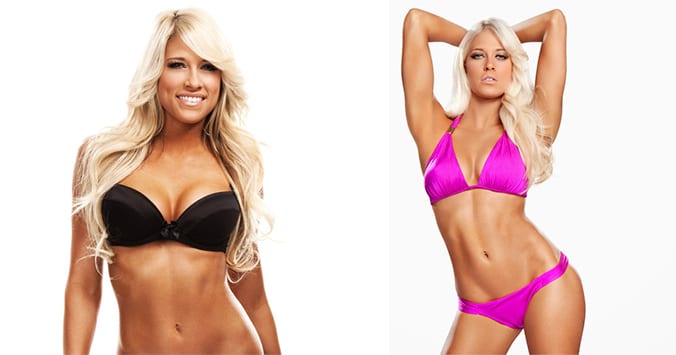 Kelly Kelly left the WWE in 2012. She then returned for two matches in WWE in 2018, where she competed in the first-ever Women's Royal Rumble match and a Women's Battle Royal at the first-ever all-women's PPV – WWE Evolution.
Kelly Kelly is considered one of the hottest divas in the history of WWE and if you don't miss her, then watch the following video and think again!
Also Check Out: Kelly Kelly Shows Off Her Perfect Butt (Video)