• "You're not an independent contractor, you're a f**king employee" – Top AEW Wrestler On How WWE Treats Talent
AEW World Champion Jon Moxley was a guest on his wife's podcast "Oral Sessions with Renee Paquette", where he discussed his time in WWE and not knowing what to do with the money he made there.
Moxley said that being in WWE helped him develop better social skills. He became a top star and started earning good, but didn't know what to do with the money since he had a rough life back then.
"When I was doing my taxes in WWE, because you're an independent contractor – which is not true – you're a f**king employee. So, you have to pay your taxes. In the developmental first couple of years, I didn't make that much money. I was able to do them myself on TurboTax.
When I had been on WWE for a while and working on a bunch of different states, I started to make more money and taxes became more confusing. So, I look up an accountant; I didn't know sh*t. I only had a bank account for two years. So, I find my accountant and financial advisor, I walk into their office, and I explain my situation. They asked what do I want to do with my future.
I said, 'Well, I'm finally making some money now. I don't know when this is going to end. This could end tomorrow, so I just want to save as much as humanly possible.' So then, in 5 years, if this all goes to sh*t, I'm good.
That was my plan when I just started to make a little money in WWE. I was going to hoard it and save it because this could end at any moment. Went up, and had a really nice, long run. Went over 5 years, but I still have that same mentality. I don't ever want to depend on anyone else for a paycheck if that was the case."
Renee asked him if he still worries about being poor again, to which he responded:
"Yes, that's why I don't like to spend money.
Even in WWE, when you first walk away with potentially a lot of zeros on it, the fiscal responsibility to your family of, 'Is this irresponsible of what I'm doing? Is it selfish?' Yes, so always on my mind is saving, being frugal, and not all of a sudden trying to become something that I'm not."
Also Check Out: WWE Wrestler Accidentally Posts A Topless Photo Of Her
WATCH: Becky Lynch NipSlip:
You can download our official WrestleFeed mobile app to check out more Wrestling news & Divas content. Tap here to download.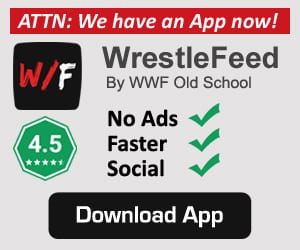 • Old School WCW Veteran Celebrates His Birthday
Old School WCW Veteran Evan Karagias celebrates his 47th birthday today.
At first, Evan was used as a jobber, when he joined Ted Turner's World Championship Wrestling in 1997, but by late 1999, he joined "Sugar" Shane Helms & Shannon Moore and together they formed '3 Count', a faction with the gimmick of a boy band.
When Vince McMahon bought the promotion in March 2001, Karagias was among the 24 WCW wrestlers who received a WWF contract, but he didn't last long and only appeared a few times during the infamous Invasion angle, as he was released a few months later.
HAPPY BIRTHDAY EVAN KARAGIAS!