CM Punk is one of the top names in the world of pro wrestling today. Punk was quite popular among the fans during his WWE career. However, he got fired from WWE back in 2014 after he quit during the Road to WrestleMania 30.
After more than 5 years, Punk made his return to WWE programming this month. Although he's not directly associated with WWE, Punk is still working as an analyst for FOX on WWE Backstage.
He made it clear that he has no plans of stepping inside the ring this week on WWE Backstage. However, he also hinted it by saying that "bridges could be built".
Punk working WWE Backstage means that he'll have to interact with a lot of people who work for the WWE, including the company's wrestlers.
With Punk joining WWE Backstage, the speculation for a return to the ring has begun. After all, Ultimate Warrior & Sting were also said to be working with 2K for WWE's video games, but ending up working for WWE.
In this article, let's take a look at 5 potential opponents for CM Punk if he steps inside the ring once again.
5. Triple H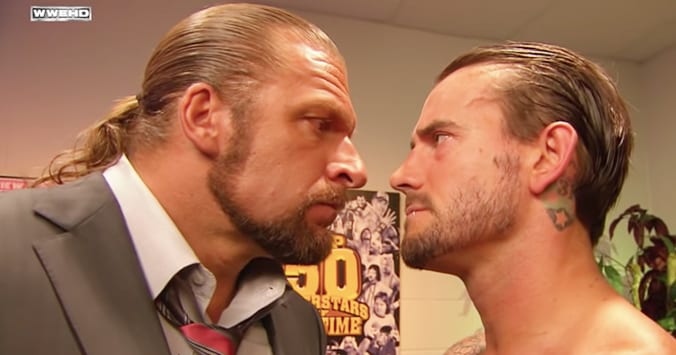 CM Punk and Triple H facing off in the WWE once again would make one of the most interesting rivalries ever. With the real life heat they have between them, the promos would be absolutely classic.
The Game wrestles at major WWE events throughout the year, which mostly include WrestleMania and Saudi Arabia pay-per-view events. There's a possibility that his next opponent at a major event may be CM Punk.
Punk and Triple H have amazing chemistry between them as the two men already feuded back in 2011. If they feud this time, their rivalry will be more intense than ever.
It will be a treat for the WWE Universe if the two eminent superstars face each other in the future. The match will be worthy to headline WrestleMania.
An interesting thing that should be noted here is that CM Punk vs. Triple H was actually planned to take place at WrestleMania 30, but Punk walked out on WWE before that could happen.
*Go to the NEXT page to continue reading this article