• AJ Lee Reacts To CM Punk's AEW Debut
Former WWE Champion CM Punk made his return to Professional Wrestling on last night's episode of AEW Rampage "The First Dance".
Punk's wife, former WWE Divas Champion AJ Lee, reacted to Punk's AEW debut by posting the following on her Instagram story: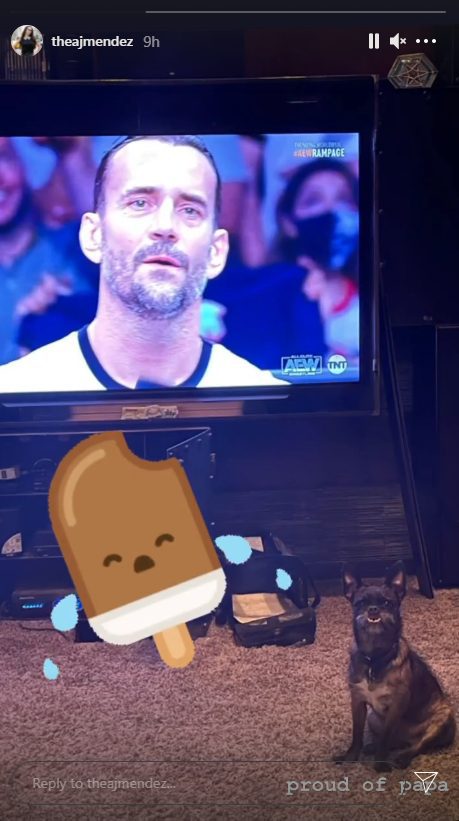 As seen in the above photo, their dog was watching as well and he was "proud of papa".
She also tweeted the following:
"Go on, break the internet, boo @CMPunk"
go on, break the internet, boo @CMPunk pic.twitter.com/MCcOWhpNnR

— AJ Mendez (@TheAJMendez) August 21, 2021
During his first ever AEW promo on Rampage, Punk took at shot at WWE by implying that they don't produce "Professional Wrestling" by saying the following:
"August 13, 2005, I left Professional Wrestling. August 20, 2021, I'm back."
August 13 is the date Punk left Ring Of Honor in 2005.
PWInsider gave the following update regarding the backstage reaction in WWE to CM Punk's AEW debut:
"For those asking the reaction within WWE to this, obviously they knew it was coming. We have heard from some who were dismissive of the debut and some who felt WWE had completely missed out by not having that moment for themselves to help repair the bridge with Punk."
Punk last appeared in WWE on January 26, 2014, at the Royal Rumble PPV.
Also Read: 2 AEW Wrestlers Claim That They Are Responsible For Bringing Back CM Punk
WATCH: AJ Lee's (CM Punk's Wife) Wardrobe Malfunction In WWE:
• Ruthless Aggression Era Veteran Celebrates His Birthday
Ruthless Aggression Era Veteran Nathan Jones celebrates his 54th birthday today.
After serving 7 years in a maximum-security prison and later competing in 'World's Strongest Man' contests, as well as doing an MMA fight for UFC's then rival promotion Pride F.C., Nathan Jones became a professional Wrestler in 2001, joining World Wrestling Entertainment in late 2002.
At WrestleMania XIX, he worked alongside the legendary Undertaker, before turning heel later that year, when he became a Paul Heyman guy.
Nathan hated the WWE's travel schedule, so he quit a few weeks before the 2004 Royal Rumble, and went on to become a Hollywood actor, featuring in movies such as Troy, The Condemned & Mad Max Fury Road.
HAPPY BIRTHDAY NATHAN JONES!