• Alberto Del Rio Indicted For Aggravated Kidnapping
According to PWInsider, former WWE Champion Alberto Del Rio has been indicted in San Antonio, Texas by a grand jury for aggravated kidnapping.
Del Rio was previously arrested on May 9th by the San Antonio Police Department and charged with sexual assault, a second degree felony as well as aggravated kidnapping.
Right now, the court records show aggravated kidnapping as the primary charge.
On May 4th, the victim reported to police that at 10:00 pm, Del Rio got angry and assaulted her, which caused multiple injuries to her.
He slapped her across the head, and slapped her again, when she asked what he was doing. He took her downstairs and forced her to wear a dress and dance. When she refused and started crying, he threatened her that he would drop her son in the middle of the road.
According to an arrest affidavit, the victim told police that he allegedly sexually assaulted her and had her injuries photographed.
FOX affiliate in San Antonio reported:
"Police said [Del Rio] then tied the woman's hands with boxing straps, put a sock in her mouth and sexually assaulted her for several hours, using various objects. According to investigators, he also punched her in the back during the assault, causing visible injuries. The victim told detectives she does not remember much after he placed his hand around her throat."
Wrestling Observer later noted that Del Rio slapped the woman at least 10 times:
"She said he slapped her twice upstairs and dragged her down and slapped her at least 8 times downstairs. There was also a point where kinda blanked and doesn't remember from there. It's a really horrible story."
Del Rio was released on a $50,000 bond.
The victim later told TMZ that the assault lasted for about 16 hours, from 10:00 PM on May 4th to 2:30 PM on May 5th.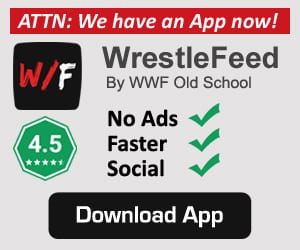 • Old School WWF Veteran Celebrates His Birthday
Old School WWF Veteran "Big Stevie Cool" Stevie Richards (Real name: Michael Manna) turns 49 today.
Richards made a name for himself in Eastern Championship Wrestling / Extreme Championship Wrestling from 1994 till 1997, where he was a member of Raven's stable 'Raven's Nest' and more importantly a member of the bWo, the 'Blue World Order', a parody of WCW's nWo New World Order faction.
He wrestled for Ted Turner's World Championship Wrestling in 1997, again as a member of Raven's faction, which was now called 'Raven's Flock'.
In 1999, Vince McMahon signed Richards to a World Wrestling Federation contract as a full time main roster wrestler, and Stevie ended up staying with the promotion for 9 years till 2008.
Easily the most memorable storyline he was involved in during his time in the WWF (later renamed WWE) was in 2000 & 2001 when he called himself "Steven Richards" and became the leader of his own faction, 'Right to Censor'.
HAPPY BIRTHDAY STEVIE RICHARDS!