Below are the top 13 stories of the hour from the world of Professional Wrestling:
13. Tom Phillips Hurt During Raw Segment With Stephanie McMahon
As we saw after this week's main event on WWE Raw, Stephanie McMahon beat up Tom Phillips in a backstage interview. WWE is noting that Tom ain't hurt, but that might not be the truth.
Wrestling Observer is reporting that Phillips was hit very hard when Stephanie hit the first slap and it shook up Tom. WWE started a storyline on their website where they noted that Tom Phillips won't be on SmackDown as he flew home. Below is a photo they posted, which shows a bruise on his face: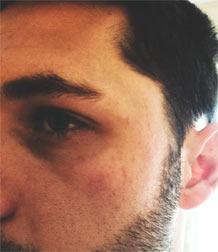 12. Paige Doesn't Want The Women's Championship Back
Former WWE Divas Champion Paige was recently interviewed by Sports Illustrated and was asked if she would like to see the old Women's Championship replace the current Divas Championship. Below is what Paige said:
"Everyone wants it to be the Women's Championship, but I like the fact it's called Divas because it separates us from the rest of the crowd.

If someone says, "Hey, you're a diva," people instantly know you're in WWE. At first, I was all about Women's Championship, but I like the fact it's just us. This is our baby. This is our brand."
11. Is The WWE Locker Room Jealous of Roman Reigns Becoming The WWE World Heavyweight Champion?
In the past, there have been instances when the locker room would be jealous of a Superstar being booked to become the "Face of the Company". However, this isn't the case with Roman Reigns.
According to reports, there was a lot of excitement backstage when Roman finally got his moment on Raw and beat Sheamus to win the WWE World Title. Reigns is well liked backstage and is very respectful.
10. When Will The Next Stone Cold Podcast on WWE Network Air?
The next edition of Stone Cold Podcast on the WWE Network is set to air on January 11, 2016 right after Raw goes off the air. 2 Time WWE Hall of Famer Ric Flair will be the special guest.
It should be noted that this won't be a live as it was taped at Austin's Broken Skull Ranch.