• Backstage News On What AEW Told Warner Bros. Discovery After Jeff Hardy Got Arrested
Former WWE Champion and current AEW Superstar Jeff Hardy was arrested in Volusia County, Florida.
He is being charged with the following:
– DUI (Alcohol or Drugs) – 3rd offense within 10 years [Felony under Florida Law]
– Driving while license canceled/suspended/revoked [Misdemeanor]
– Violation of restrictions placed on driver's license [Misdemeanor]
Hardy was incarcerated at Volusia County Jail.
Below is the mugshot: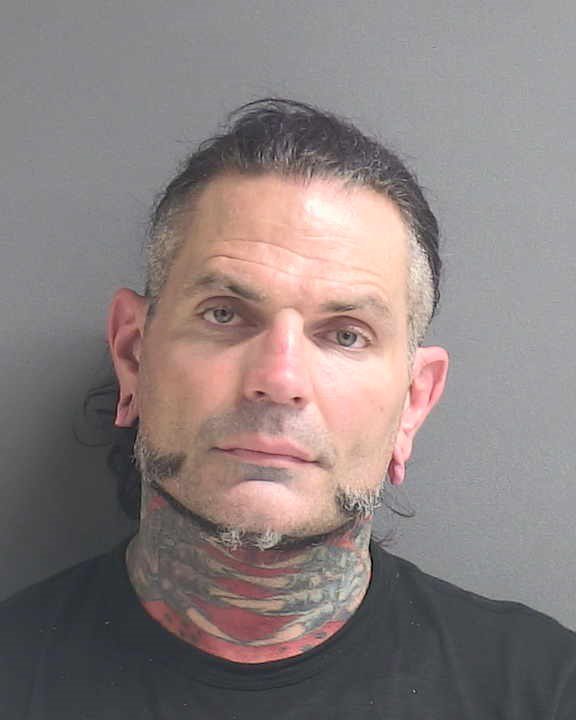 Hardy's blood-alcohol content was 3 times over the legal limit.
He was bonded out of jail on Monday evening after paying a $3,500 bond. His court hearing for Tuesday got canceled.
Jeff was set to compete in a Triple Threat Tag Team Championship Ladder Match on this Wednesday's AEW Dynamite: Road Rager, but that match has been pulled.
The Wrestling Observer gave the following update regarding Jeff's AEW status:
"While AEW has not said anything publicly, [Warner Bros. Discovery] was told to stop all promotion of Jeff Hardy in any commercials or anywhere else immediately.
They have stopped promoting the three-way ladder match for Wednesday and not sure if they will have a tag team title match with just the two teams or not."
Also Read: Jeff Hardy Could Face Up To 5 Years In Prison (Details)
WATCH: WWE Star Shotzi Blackheart Without Clothes (Part 1):
• Old School WrestleMania Host Celebrates His Birthday
Old School WrestleMania Host Donald Trump celebrates his 76th birthday today.
In 1988 & 1989, Donald Trump hosted WrestleMania IV & WrestleMania V at the "Historic Atlantic City Convention Hall" sponsored by the famous "Trump Plaza Hotel and Casino".
In addition to that, Trump was also seen in the crowd at WrestleMania VII & WrestleMania XX as a close personal friend of the McMahon family.
He was inducted into the Celebrity Wing of the WWE Hall of Fame in 2013 and in 2016 he became the 45th President of the United States.
HAPPY BIRTHDAY DONALD TRUMP!