• On This Day In Pro Wrestling History (September 2, 1985) – NWA Battle of the Belts
On this day in Pro Wrestling history on September 2, 1985, CWF Championship Wrestling From Florida aired 'NWA Battle of the Belts' LIVE on broadcast syndication TV from the Spartan Sports Center in Tampa, Florida.
This was the first of 3 'NWA Battle of the Belts' events, promoted by the CWF promotion.
The results from that night:
– Hector & Chavo Guerrero beat Rip Oliver & Grappler
– Cocoa Samoa pinned Rip Rogers
– Florida Title: Kendall Windham pinned Jack Hart
– Southern Champ Rick Rude pinned Billy Jack Haynes
– AWA Tag Championship: The Road Warriors (c) wrestled Harley Race & Stan Hansen to a double-count-out
– Nick Bockwinkel pinned Frankie Lane
– Two out of three falls: NWA World Champ Ric Flair beat Wahoo McDaniel
WATCH: Torrie Wilson Exposes Her Super Hot Buns:
• Baron Corbin Rips Smarks Over Chris Jericho's AEW World Title Win
As seen at AEW All Out, Chris Jericho defeated "Hangman" Adam Page in the main event to win the AEW World Championship.
This led to a page on Instagram talking about how fans hate it when WWE books old wrestlers to defeat young wrestlers, but that wasn't the case in AEW (where Jericho was over 20 years older than Page).
RAW Superstar "The Lone Wolf" Baron Corbin commented the following under this Instagram post:
"All of these smarks have hated and complained about everything we do. Now they are forced to love everything these guys do, even when it's the exact same thing. It really shows how dumb they really are."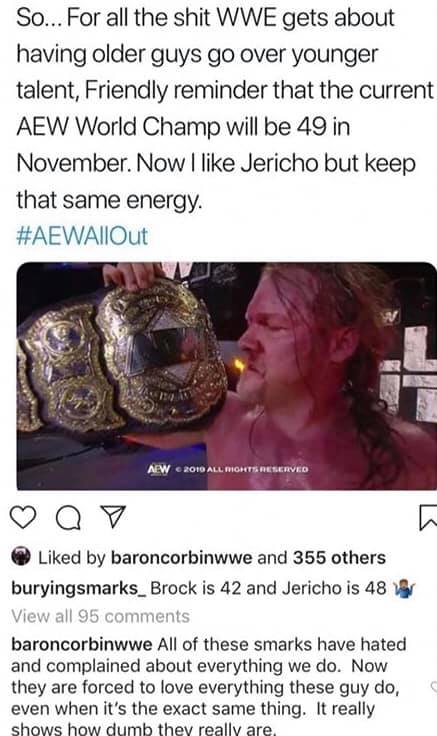 Announcement: Please download our official "WrestleFeed" app for the latest WWE/AEW News & Clash Of Champions 2019 updates!
Below are the download links for our Android/iOS app:
Android – http://bit.ly/2IVQ3yU
iOS – https://apple.co/2Oido0R